Discover more from Sugabelly
I think a lot of things
Over 2,000 subscribers
The 10 People You Meet in Nigeria - Part 3
Who are the people in your neighbourhood? If you live in Nigeria, you probably run into all sorts of characters on a daily basis. Of course, where you live and what your social status is influence the type of crowd you run with, but regardless of where you've been and who you are, if you live or are in Nigeria, sooner or later, you will run into all of the following people.
3. The Ajepako Pastor ( religiosium hungrius )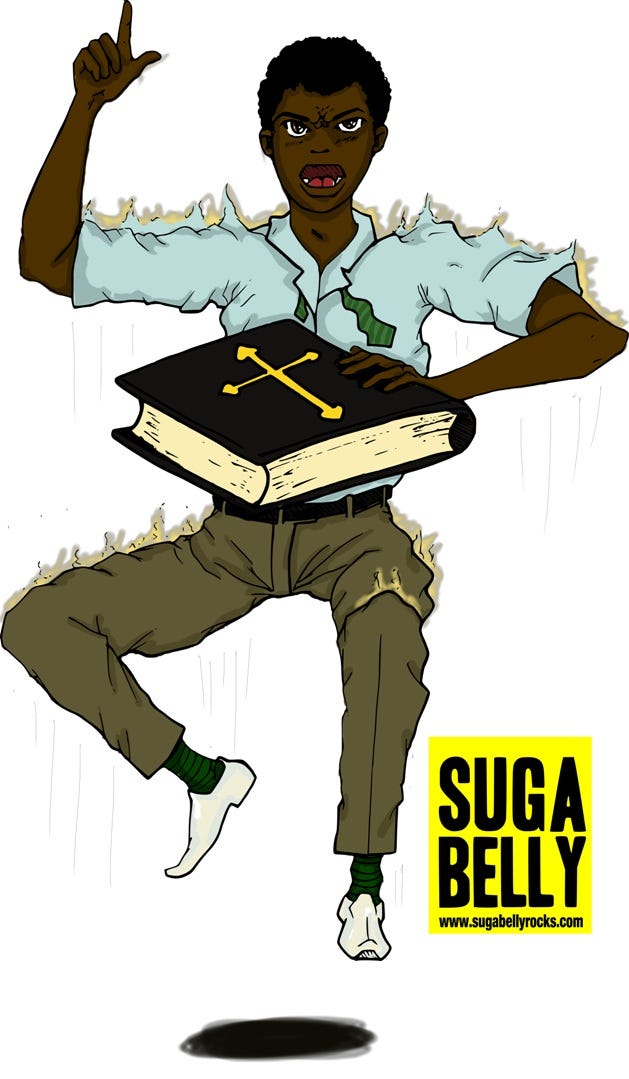 General Characteristics: Instantly identifiable by his 'jump-up' trousers, over long tie, and 'I swear to God' shoes, the Ajepako pastor always has a battered Bible in hand and is covered in sweat from jumping up and down to get the gospel across and call down Holy Ghost Fire on the never-ending swarm of 'enemies' that every Nigerian Christian is guaranteed to have.
Forget flashy cars, and private jets, the Ajepako Pastor's message is one of righteous suffering. The rich are evil, the poor are good, and never mind that you're dying of malaria, one day God go make you bigger. The only thing the Ajepako Pastor has in common with his more successful and well fed cousin (The Ajebutter Pastor) is their unified belief that miracles happen on the daily. Got a new job? It's a miracle! Marriage proposal? It's a miracle! Broke your leg? Don't worry, that's a miracle too.
The Gospel might be known as 'The Good News' but strangely enough the Ajepako Pastor almost never bears any good news. Blessed with an acute ability to see witches, wizards, curses, and of course, ENEMIES hovering over just about ANYBODY, the Ajepako Pastor is forever binding and casting and conquering, usually with questionable results. Pity he rarely succeeds in conquering his arch enemy: hunger.
9 out of 10 Ajepako Pastors are skinny to an unfortunate degree.
Natural Habitat: Buses - particularly Molue and interstate Luxurious Buses (especially those operated by Ekene Dili Chukwu, ABC, and Ifesinachi), Markets of all kinds, Village churches, and most curiously of all, in close proximity to MTN recharge card stations.
Notable Habits: Super advanced Wizard Radar and the ability to speak in gibberish 'tongues'...
Natural Enemies: The Sisi Eko, The Aristo, and The Ajebutter Pastor
Related to: The Ajebutter Pastor and The Johnny Just Come