Discover more from Sugabelly
I think a lot of things
Over 2,000 subscribers
A New Week
Yay, the new week has started and I've already whiled Monday away. Oh well. Christmas week was quite interesting don't you think? Thank goodness it didn't end in tragedy.
So I did very little drawing over the weekend mostly because I have to work on my self-discipline. I spent the weekend watching another super interesting anime I've discovered while I wait for Inuyasha. (Which reminds me, THE NEW EPISODE OF INUYASHA COMES OUT TODAY!!!)
The new anime I'm watching is called Speed Grapher. I finished watching Saiunkoku Monogatari and I was wondering what I was going to do but I came across this new anime so I'm happy as a bug in a rug.
I did a sample colouring of Aku so here it is. The yellow thing on her neck is camwood. For those that don't know, camwood is an Igbo cosmetic used by Igbo women. And I know camwood is not yellow, it's really a dull orange-ish red colour but I didn't have a marker in the correct colour so I just made it yellow.
I also tried experimenting with the Ndebe script to see if I could make it decorative. My calligraphy sucks. I'm sorry.
Anyway, here it is: (Bonus points if you can tell me what the writing says) - you don't have to give me an English translation. Just tell me what it says in Igbo.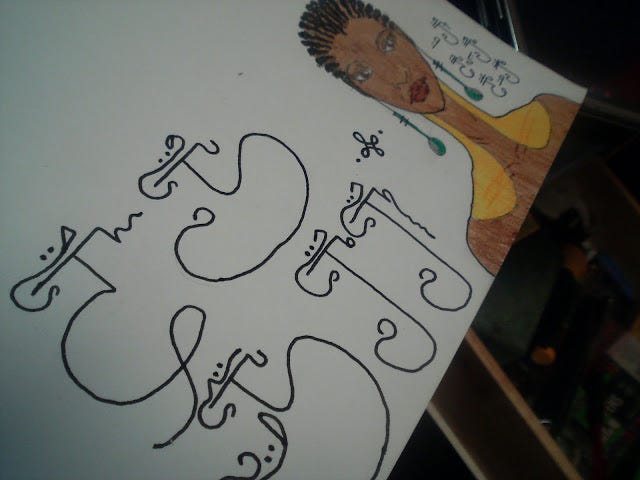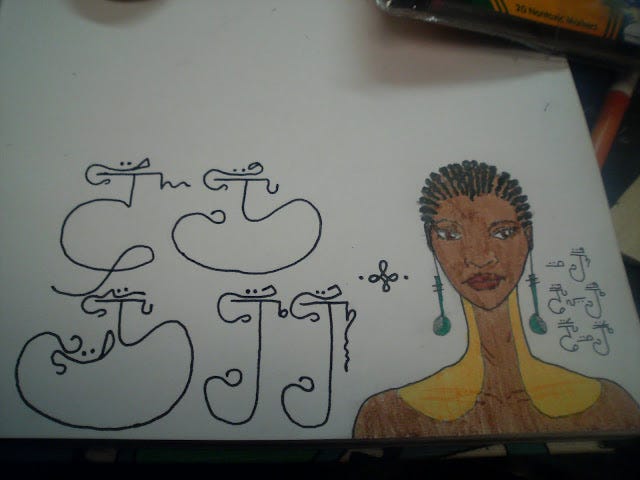 P.s. Please does anyone know anything about Igbo secret societies? All I know is that my grandfather is in the Ozo. I also know about the Ekpe, Okonko societies and the leopard cult.
Please, I'm begging you. If you know anything about any Igbo secret societies (including ones I've not mentioned here) or if you are a cult member or society member please tell me everything you know. I need the information for my story and it has to be as culturally and historically accurate as possible.
Thanks!