A Rant
So writing this story has opened my eyes to many things. And if you commented on the excerpts I posted please don't think that this is specifically about you. Some of my friends have also read drafts of my story and from other discussions I have had with other people some things have become apparent.
There are things that are common to all human beings: needs, wants, desires, behaviours even. Because we know this, there are assumptions that are made about all groups of humans wherever they may be, and we know these assumptions to be logical because time and time again, no matter where or how they are tested they have always proven to be true. Like all things in life there are exceptions, but those exceptions are almost always individual and varied.
Now these things might be generalisations, but they are true in the general sense and so it is not incorrect to say them. For instance, all humans need food, water, and sleep. This is truth. How much of it varies from human to human but the truth of it nevertheless remains unchanged. How is this related to my point? There are aspects of human behaviour that can generally always be expected no matter what civilization we are discussing. If it is true that these aspects are common to all human populations, why then does everyone, and Africans themselves in particular, find it so difficult to accept the humanity of our African ancestors????
I know that thanks to research and access to my university's vast library holdings I am no longer ignorant of the accomplishments of my fore bearers but what irks me is WHY I was even EVER ignorant of these things in the first place. Left to Nigerian education alone, we would know NOTHING of the lives of the people that gave rise to the current population of Nigeria. NOTHING WHATSOEVER. What is even more infuriating is that as I uncover each mundane aspect of their daily lives through arduous and meticulous research, I am met with shock, resistance, and outright denial by Nigerians and other Africans around me.
What am I talking about? I am talking about how fucked up it is that Africans find it so hard to believe that their ancestors were NORMAL PEOPLE. It is FUCKED UP that we are so unwilling to ascribe to them common humanity while we more than readily give it up to the ancestors of those of other races and nations. It is FUCKED UP that even the most mundane things that we not only take for granted but expect in the history of other peoples are lauded as astounding and marvelous accomplishments in respect to our African ancestors.
Let me explain myself more clearly. While I was in Manhattan over the summer I went to an indecent number of African fairs in Brooklyn. I am generally attracted to these fairs because I am addicted to all things related to African history, in particular Nigerian/Igbo/West African history. Before I begin, my only regret in telling this story is that I seem to have stepped on my memory card and broken it so I do not have the pictures I took to drum my point in further. At the fair, I discovered a number of extremely old items:
1. A war helmet made of hard leather, reinforced by cowries on the outside and lined with down on the inside for comfort. The helmet extended to cover the ears but left the face uncovered. On top of the helmet was a black feather plume.
2. A huge wooden cupboard/closet/wardrobe/cabinet in the shape of a kneeling human. Heavily decorated of course. The torso area formed the door which opened to reveal a number of shelves made out tightly woven hard matting.
3. A very long hair pin with a leopard, a chimpanzee or other monkey and a lion intricately cast in a complex pose.
4. A huge wooden bed in a completely unique design with a sunken depression for a mattress, beautifully carved platforms for pillows and in between, another depression for a headrest if the bed was being used by one.
5. A huge wood and metal bathtub (well that's my only description for it) with a space underneath for a fire so that the person bathing can enjoy a hot bath.
6. Beautifully carved wood and gold round water bottles with covers (looked more like canteens) with delicate chain metal handles for carrying.
7. A number of beautiful miniature jewelry boxes with legs.
8. A number of ornate perfume bottles (wood, metal, and ivory) with legs.
My first thought when I happened upon these items (aside from obvious insane joy of course) was "Finally!! Proof that ancient Africans had wardrobes, did up their hair, slept in beds, took hot baths, had water bottles, wore and stored jewelry, and wore perfume!!"
I immediately felt ashamed. I would not have given even a first thought to these things if I had encountered them in a European or Asian historical movie. Yet like so many Nigerians and Africans, I needed definitive proof before I accepted that Africans 1000 years ago had the presence of mind to take hot baths. I had refused to give my ancestors their humanity and intelligence until they had 'proven' it to me by the artifacts that they left behind.
Now over and over again, when I discuss the research that I am doing for my story, particularly with my Igbo friends, they snort with laughter and incredulity when I mention things like Igbo people wearing trousers or sleeping in beds or having multiple story homes. They look at me like I'm crazy when I talk about street lights and theatre and bars and parties in relation to ancient Africa. They tell me 'please, Africans live in tiny huts and run around with spears.' I feel ashamed because I too once believed that.
What I am trying so hard (but rather unsuccessfully, I might add) to get across is that I believe that most modern day Africans do not view their ancestors as real people or even full human beings. Not only do we not know much about them, but there is generally no desire to know because it seems we generally assume that there is nothing to know about and that there is nothing in the ancient world that could compare to the world we know now.
I feel ashamed when we gush over simple things like mattresses or futons (no Leggy this is not a personal jab at you) or cupboards or hot tubs or heated seats and beds or paved streets or even storied buildings (ditto Myne Whitman). I feel ashamed that we have been so convinced of the inferiority of our ancestors that we abandon all logic and are determined to believe that someone who can afford better would continue to sleep on a bloody mat. Or that someone who could afford better would continue to maintain a floor of mud in their home even though the mere presence of a clumsy child in conjunction with liquid of any sort would quickly turn into a mess of epic proportions.
Or that someone who could afford better would continue to live in a tiny one roomed six foot high hovel in spite of the ready availabililty of all building materials rather than expanding it outwards and upwards. Or that someone who could afford better would continue taking cold baths at the stream in the depths of harmattan when hot water is easily within reach. Or that someone who knows that the night brings with it marauding predators, hell-bent spirits, and human criminals would not have the presence of mind to erect nighttime lighting in the streets for the benefit of all.
Or even worst of all, that we would ignore the simple human need for diversion, so much as to claim that Africans couldn't possibly have had parties or gathered to watch entertaining plays or listen to and adore naturally blessed singers. That we would ignore the simple need of human men to congregate together away from women at a watering hole of some sort, preferrably with copious amounts of alcohol and otherwise unattached women that we would believe that they simply could not have had bars (for want of a better word) or parties, or prostitutes.
That we would refuse to see the basic humanity of our ancestors that we believe that they had no concept of love or beauty or even DAMN COLOUR COORDINATION, that we would firmly scoff at any suggestion that Africans might have been in love, taken lovers, gone to onerous lengths or undertaken epic journeys simply for the sake of love, that Africans might appreciate the beauty of flowers, might have planted gardens, had fish ponds, or even (gasp! shock ! horror!) worn clothes and accessories in colours that complemented each other.
No, the sad reality is that in the mind of most Africans, our ancestors were little better than brutes, running around a fire in a loin cloth with spears raised, screaming "Oooga Booga!". People might not ever admit it in those terms, but watch what happens the next time you approach a random African, especially a Nigerian and suggest to them that four hundred years ago their ancestors wore high heels, and slept on soft cotton mattresses with bedsheets, pillows, and blankets, and not planks of wood, a pile of gravel, or hell even a pit of burning coals. They will scoff at you and think you crazy.
Yet, we readily accept that the ancestors of Caucasians, and Asians were sophisticated, refined, beautiful, strong, intelligent, and human. For all we know, China could have made up their entire damn 5000 years of continuous history that they are so proud of, but we accept it from them readily and without question. We immediately accept the multi-faceted humanity of THEIR ancestors, while OUR ancestors must fight tooth and nail for every scrap of dignity they wrestle from our cold dead claws.
Why do we believe these things? Because foreign historians and anthropologists and archaeologists told us so? Before 1880, most of Africa was unexplored and unknown to the outside world. All the archaeological work done in Africa hasn't even begun to scratch the surface of our vast and endless history.Most of the work has been concentrated in Egypt anyway because Egypt is the darling of the western world. We Africans haven't even shown any interest in doing any archaeological work to find out about our past even in Benin which is the most OBVIOUS WAVING FLAG because we simply aren't interested. We've been satisfied to believe that our history holds nothing of worth and as far as most Africans are concerned, they're satisfied to go on believing that. Damn, even bloody Igbo Ukwu would NEVER have been discovered if that man hadn't wanted to build a bore hole. We would rather worship and revere the ancestors of others while the glory of our own go untold in our own backyard.
I have wondered at this almost every day now, and every time I open a book and am about to feel amazement when confronted with a picture of an Igbo hunter wearing beautifully, carefully crafted sandals, I mentally slap myself. Why the hell should I be amazed that an Igbo man is wearing sandals when I take the footwear of 4th century Europeans as a given? My amazement is an insult to my ancestors because it shows that I did not believe them capable, intelligent, or even human enough to know that there are sharp objects in the ground that might puncture the foot if left unprotected.
It is one thing to appreciate the beauty of the past, but quite another to be patronizing. We patronize. We seriously do. We patronize our ancestors and I feel ashamed. Does this mean we should not drool over those gorgeous Yoruba boots? No, it does not. Those things are fucking gorgeous and they deserve all the drool in this world. What they do not deserve however is us expressing shock that they were able to accomplish simple things that are normal for other humans such as comfortable shelter, clothing, comfort, etc. in varying levels of luxury according to social stratification.
We're not all perfect, and I am certainly as far from perfect as they come, but I say this because I believe that our ancestors are deserving of respect and we do them a disservice with our "surprise" at even the simplest things we discover about them. If these things are to be expected with Caucasian and Asian ancestors then why not with ours? Are the ancestors of Caucasians and Asians inherently better than ours? No they are not. Are they more intelligent? No. Are they more anything? No. So why then, are we so skeptical of anything that says that ancient Africans were just as human as their equally ancient counterparts in other parts of the world and given to the same proclivities?
Have we so little faith in those who came before us?
---
This region is in relation to the debate in the comments about whether or not ancient Africans (in general) and Igbos (in particular) could have built multi-story buildings:
This is an Mbari house. An Mbari house is basically an elaborate Igbo house constructed as a shrine to the Goddess Ani.
Observe, the following house has something resembling a small attic.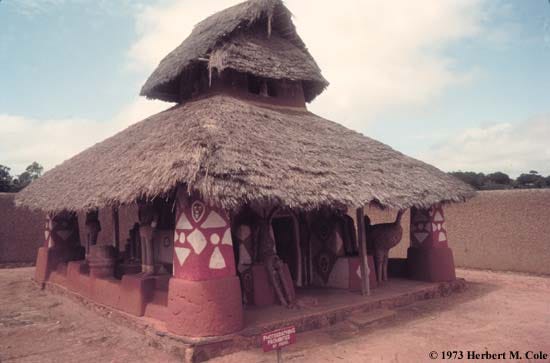 If the builder of this structure knew how to make that additional level it is not a stretch to conclude that the dude could have simply expanded it on a whim? Observe the obviously strong and solid pillars that look more than capable of supporting an additional floor.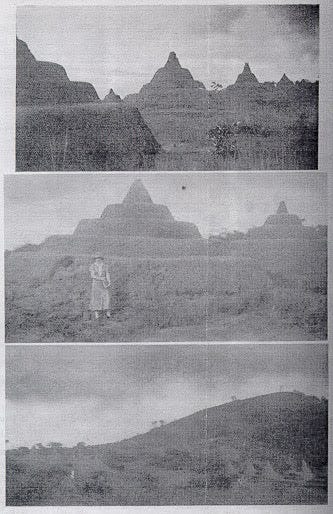 Question: Why is it so hard to believe that Igbos who built the Nsude pyramids here could not build a simple set of stairs? Bloody hell, the damn pyramids LOOK LIKE STAIRS. Surely any builder with two brain cells to rub together would make the connection?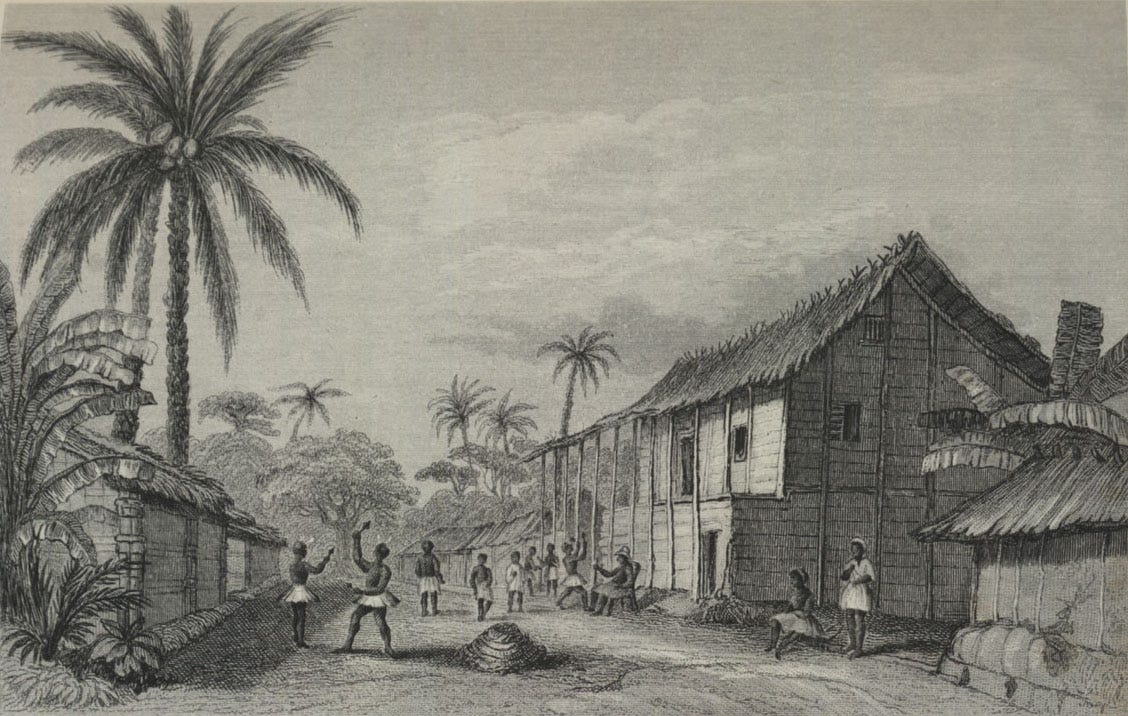 Further Further Update: Thanks to Gin for finding this historical sketch of an Igbo two-story building. I guess this puts a new spin on things, although I have also seen historical sketches of the Igbo areas with some pretty towering structures (must did into my external harddrive and see what I can find)
Further Update: (For Azazel's Benefit):
Thank God I found this one at least. This small cupboard or whateveryouwanttocallit is Yoruba. The ones I had on my memory card were Igbo ones I personally took pictures of but since my memory card is destroyed, here's a Yoruba one. And you can tell it is Yoruba. Compare the figure on top to most Ibeji figures as well as Gelede masks. Of course this specimen is much smaller than that wardrobe I found which was ginormous.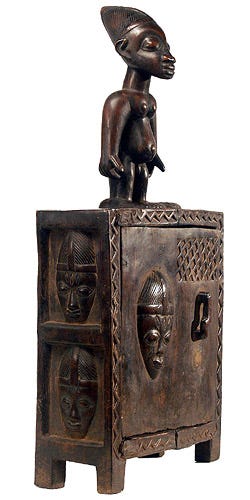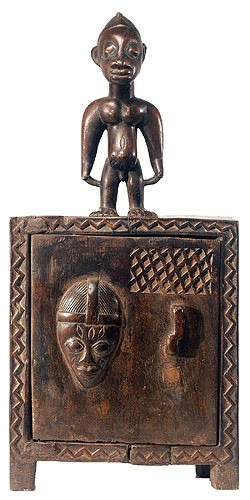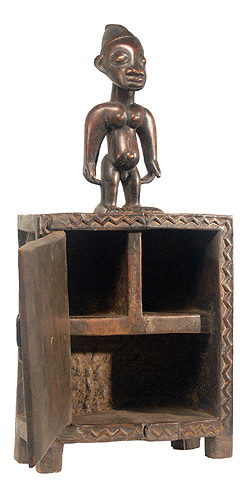 ---
I honestly think we just aren't comfortable with accepting our ancestors as intelligent, thinking beings. Otherwise we wouldn't be doubting the ability of grown men to solve a problem as simple as building an additional story on a building and connecting the two.