Discover more from Sugabelly
I think a lot of things
Over 2,000 subscribers
Also on Groundstreet: Season Two of Groundstreet Radio Begins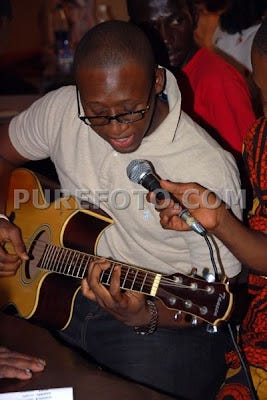 We've had SUCH a long hiatus, and I'm sorry, but I've been wrapped up in school, running Barcelagos, and everything else I've got on my plate that Groundstreet Radio has been on the back burner for quite a while.
Not to worry though, Season Two begins and it's going to be bigger, better, and badder than before. The first show will be this Valentine weekend, and I'll be talking about quite a lot of stuff, from Valentine, obviously, to the Grammy's, the direction African youth are taking, and the hottest new unsigned artist that everyone's talking about on Facebook: Bez. I've got his demo track here for everyone to listen to. You should also check out his MySpace Artist Page HERE
Let me drop names now before it's too late: Bez and I went to secondary school together. Yes, he was my senior, and he was in SS2 when I was in JS1, but he was on my dining hall table. Heh heh!
There it is! I've announced my association. Don't say you didn't know. His sound is pretty cool, and if you're tired of all the mindless pop and hip hop that's everywhere these days, you'll love Jazz for Mary, which is what his demo is titled.
Bon ecoutant!