Discover more from Sugabelly
I think a lot of things
Over 2,000 subscribers
CNN highlights Colourism in American Adoption
Thanks to Ijaw for pointing me to this article on CNN's frontpage.
A lot of people have called me crazy, bitter, fat, ugly, lesbian, racist, etc for daring to suggest that there is indeed a disparity in the way Black women of various shades are treated by society. They often raged frothing at the mouth asking me to provide proof of my scandalous statements.
Never mind the fact that this is a phenomenon that happens EVERY DAY, and never mind the fact that there isn't that much official evidence on this because most people are either in denial of it, or oblivious to it, or too ashamed to come forward.
People of other races are oblivious to it, and so they don't do the research nor make the documentation because they don't know.
Light skinned Black people are heavily in denial about it because everyone is nice to them so they don't realise that the same people that are very nice to them treat another section of society very badly. Hence, they too do not do any research nor make any documentation of it. In addition, they are often the first ones to dismiss any claims of colourist discrimination made by Dark-skinned Black people as exaggeration by using THEMSELVES as examples of society's supposedly sweet intentions.
Dark-skinned Black people are ashamed because they are the ones who experience this bad treatment and they too (for the MOST part) do not do any research on this or try to confront the rest of the world with these facts because by doing so they would be forced to admit that they are the very bottom of the society's barrell.
..... and nobody likes to be the bottom of the barrell.
Luckily every now and again, a news story comes along that completely unintentionally throws the spotlight on the easily-ignorable, everyday displays of colourism that most of us would rather pretend do not exist.
CNN ran a story today about how more and more single Black women are adopting babies. While unremarkable in of itself, this story exposed two very glaring truths that I have addressed before on this blog.
1. A VERY LARGE PROPORTION of Black people (both male AND female) prefer other Light-skinned Black people to Dark-skinned Black people.
2. Black women (and more specifically dark-skinned Black women) have a TERRIBLE time finding Black men to date them.
According to the CNN article, not only are more Black women adopting children because they are tired of waiting for Black men (who it seems are too few, too unqualified, or too uninterested in Black women to date them) but they are also PREFERRING to adopt Light-skinned babies over Dark-skinned babies.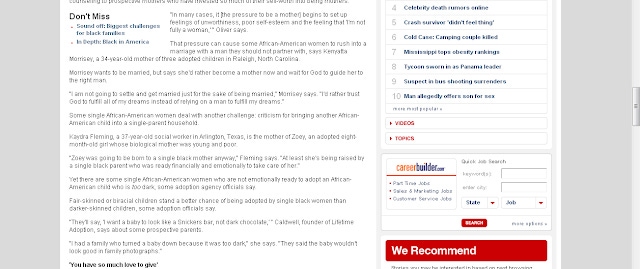 Here is a clipping of most of the article (just so you know it's legit from CNN)
Now here is the damning portion of the article
I don't make this stuff up. This is obviously not all-encompassing proof of every act of colourism among Black people, but it is proof of at least one element of colourism that is fueled by the greater attitude of society.
And you know what? There IS proof that colourism exists and affects the lives of scores of Black people everyday. Thanks to the Internet there are blogs, there are videos, there are Tweets, there are all manner of media documenting the personal experiences of millions of people. The fact that it wasn't officially compiled by a university professor and published in a scholarly journal does not make it any less valid.To ignore that just because you don't want to rock the status quo or just because you might be lucky enough to have been born into a category that means you will not be affected is unfair.
It's disgusting enough that women ( and sometimes men) are denied an equal opportunity for love (and in some places - work, promotions, school, etc) because of the degree of darkness of their skin, but it is even more disgusting that BABIES who desperately need families are shunned because of something they have absolutely no control over.