Discover more from Sugabelly
I think a lot of things
Over 2,000 subscribers
Cooking Attempt 1: Rice and Stew
Since I'm turning twenty this year, I have decided to cave to my family's wishes and learn how to cook. At this age, I should at least be able to cook something. If little kids play pretend as if they are in the kitchen, then I'm sure at twenty something, I can actually rustle up something tasty to eat. Let's give it a go. I mean, if it doesn't work out, at least I can say I tried. href="http://1.bp.blogspot.com/_QVW98iGMXHI/SZXbpFVB35I/AAAAAAAAIpg/bxGCMxgysfA/s1600-h/Image4595.jpg">My Cooking Drawer (Formerly the home of my Stilettos)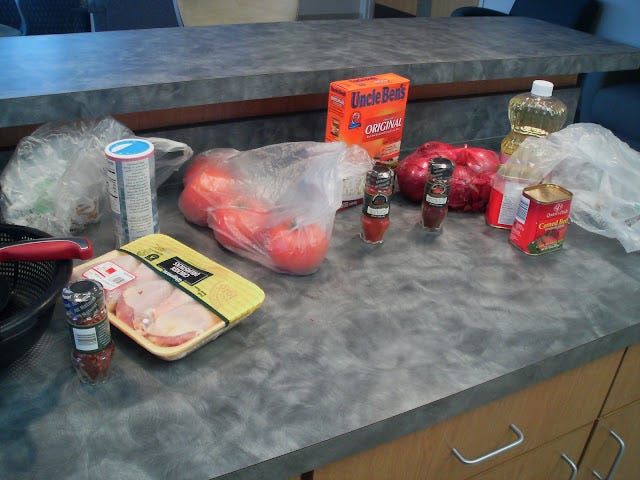 Getting the Stuff Out
No Parboiling Needed :D
I cut like a pro
I think this is how you're supposed to start the stew
The chicken gave me a little trouble so I stabbed it in anger
Added the corned beef (was I supposed to?)
My first pot ever!! I'm so proud :D
Maybe cooking isn't that bad afterall
I threw the cornbeef mixture in there with the chicken
Yay! Cooking makes me feel so grownup! :D
I spoke too soon: Something is very wrong
My trusty Monkey-shaped Potato Peeler: Isn't he cute?
I had to call my Mom in Nigeria for help
Potatoes are the answer: My Mommy said so!!!
Yay, potatoes will thicken my stew and make the water go away. Or at least that's what I think she said. :/
Showing off my Battle Scars. Cooking sux. :(
The finished product. It's not exactly the rice and stew you know, but at least there's rice, ..... and some sort of substance that I shall now name "Stew"