Dbanj has a new video
I know on the many previous occasions that I have pointed out the very disturbing fact that more and more Nigerian artists continue to use White women in their videos even though the population of White people in Nigeria is so insignificant it doesn't even command a full percent (never mind the fact that most of them are in Nigeria for work-related reasons), I have been called a "hater".
Well... let me not say I told you so. This is the what? Sixth? Seventh? Eighth? video in a row from Nigeria that has featured at least one White/Non-Nigerian woman.
Remember these?
  Evidently, Dbanj, Dare, and co think that White women are a major upgrade from Nigerian women.
Hey, even these sef: (Yes I know the dude is from Cameroon, but as I recall Cameroon is our direct neighbour and Nigeria being the more powerful and hegemonous country, some of our music video steez must be rubbing off on our East African friends)
Of course, how could we forget the beloved Gbono Feli Feli?
Hey, don't shoot the messenger, I'm just telling you what these videos are screaming into our ears. I'm not a big fan of music, Nigerian or otherwise, so it's all of you that buy Dbanj's CDs, go to Dare's concerts, and spend your hard earned money only for these two characters to spit in your face with their next video that should be bothered.
I said it a long time ago, and what did people tell me?
Oh yeah, somebody said I must have chased Dare and he didn't want.
Given the Nigerian love for all things foreign.
Given the way Nigerians worship the very ground White people walk on.
Given the way Nigerian school teachers refuse to lay a hand on their White or half-caste students but do not hesitate to daze their Nigerian pupils.
Given the way any White person in Nigeria (even if they were a beggar or a bus driver back home) automatically becomes "Sah!" or "Madam!".
Given the way Nigerian service providers/officials will happily mistreat a Nigerian but extend the most delicate of courtesies to anybody lighter than a pawpaw.
Given the way when even the ugliest White girl on the face of the Earth walks into a party in Nigeria she automatically becomes the hottest, finest, and most sought after babe there (in spite of all the smoking hot Nigerian girls in the room).
Given the way Nigerian companies deliberately select their names in order to give the false impression that they might be White-owned so that they will be taken more seriously.
Given the fact that this shit actually exists in Nigeria and is actually flying off the shelves like hotcakes in spite of heavy NAFDAC persecution: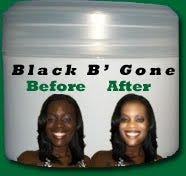 Even though the success of these artists was built on the backs and money of Nigerian women (and men) like you and me. Now that they feel they're at the top they are happily discarding Nigerian women whom they deem inferior for White women who they obviously view as a better model.
Am I surprised?
Fuck no.
*And please, if you're going to say "Oh, but Dare is married to a Nigerian woman", just save your breath. That statement is pretty much equivalent to the "But I have a Black best friend so I can't possibly be racist" argument. The two situations are not mutually exclusive.