Discover more from Sugabelly
I think a lot of things
Over 2,000 subscribers
Don't Be Afraid to Be Anti-Heterosexual
This post is in response to Kitkat's original post titled "Don't be Scared to be Anti-Gay" which I strongly suspect she wrote in response to Adura Ojo's post on Naijalines. It is also in accompaniment to Sting's Post and Prism of an Immigrant's Post, and I suggest that you read all three before reading mine.
KitKat's post was ignorant and offensive without a doubt, but the real gold comes from the comments. Right now, a portion of the Nigerian blogosphere is arguing back and forth over homosexuality and the centre of it all is the post that KitKat wrote in which she claims that homosexuality is a sin and she feels pressured to accept homosexuality while in America because of fear of being stigmatised as a bigot by the general pro-gay atmosphere here.
While this is a valid concern and I do in fact believe that Kitkat's experience is very true and that there must be some anti-gay individuals who feel compelled to hold their tongues for fear of being called out, there is something that stands out to me in all of this that I simply must know.
Assuming that homosexuality is a sin;
Why is it, that OF ALL the possible sins that your classmates or school mates could have been committing at any given moment (such as lying, stealing, fornication, fraud, adultery, etc), homosexuality is the only one that you feel the crushing need to jump up and speak out against? For instance, why would watching a video from an online adult entertainment site such as twinkpornvideos be classed as worse than bullying someone for said action?
Because it's not as if you walked into class and announced "Please anybody who has committed sin today by lying or stealing kindly stay back ten feet from me." yet you ignore all other sins and home in on homosexuality as if the others are somehow less sinful.
Why is it, that OF ALL the possible sins that the average Nigerian could be committing at any given moment on a random Nigerian street, homosexuality is the only one that other Nigerians feel the need to leave whatever they are doing and expend their precious energy to condemn and persecute?
It's not as if Nigerians are not committing other equally sinful sins that might even be worse because unlike homosexuality (which only concerns the individual and perhaps whoever their partner is), they affect other innocent people ( e.g. STEALING - all the BILLIONS of Naira that various Nigerians in power and in government offices have STOLEN from the Nigerian populace that has detrimentally affected the ENTIRE NATION by reducing the quality of our education, denying Nigerians access to uninterrupted electricity, safe roads, clean water, and a host of other things that we should as a society have by all rights but might never because of the sin of THEFT)
So please tell me why.
Because I KNOW that you do NOT write blog posts about how you saw a Man and a Woman kissing one day and you are concerned and distressed that they are committing fornication. I KNOW that you do NOT write blog posts about how a Man has been watching online pornography involving women, yet you are concerned if a Man prefers to look at big dicks instead.
I KNOW that the average Nigerian blogger DOES NOT write blog posts speculating about what activities men and women or boys and girls walking on the street might be doing with each other behind closed doors, yet all these Nigerian bloggers and Nigerian commentors are coming out of the woodwork to deliver their judgment on homosexuals as if they've done nothing all their lives but sit on a mountain top praying and fasting for fate of the world.
It is very clear that if homosexuality is indeed a sin, it is certainly receiving special attention that is not accorded to other sins.
Dear Bloggers and Blog-Readers of Nigeria, if you did not know before, this is called DISCRIMINATION.
If you don't feel the pressing need to speak out against people who ask for dubs during exams or people who borrow five dollars and never pay it back (THEFT) or people who ask their smart friend to do their homework for them (FRAUD) or your friend and her boyfriend (FORNICATION) or your daddy and his second wife and two mistresses (ADULTERY) or your friend who is saving two thousand dollars for a Louis Vuitton bag (AVARICE) when she could have used that money to help the poor, then I do not see why you are suddenly feeling an irresistible desire to express your condemnation of homosexuals.
I really need to know why all of you who are jumping up and down because suddenly you have remembered that homosexuality is a sin always develop amnesia when you see men and women kissing.
The long and short of it is, homosexuality is an EASY target. Because homosexuals are in the minority, and the majority of heterosexuals will never experience homosexual attraction, it offers a unique opportunity to sit on a pedestal and point a finger of judgment and condemnation but never have one pointed back at you because well ... unlike other sins (lying, cheating, etc).... you haven't done it. If you are completely heterosexual, homosexuality is something that you have never done and so there is no fear that your own shortcomings might be held up to you when you pull out your cloak of self-righteousness.
Just as Right Handers are in the majority and once persecuted the Left Handed minority of humans because they would never experience Left Handedness, so too are holier-than-thou heterosexuals happy to persecute homosexuals because they know that it is the ONE thing where they can be absolutely sure that they will never be in that situation and have to suffer the persecution they so easily dole out.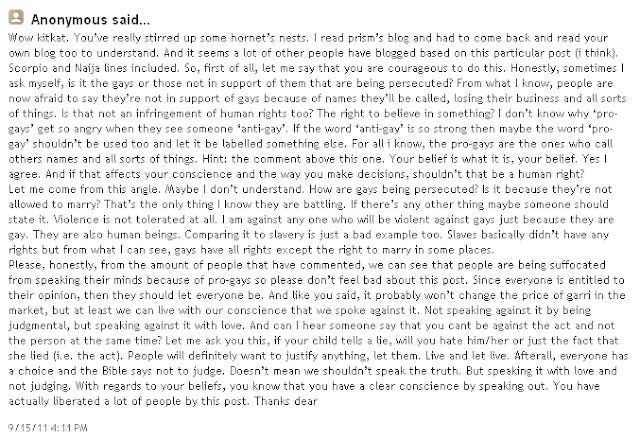 In case you didn't see it:
Pretending as if gay people all over the world don't face very real threats to their LIVES, health, and safety
As for some of the commenters, particularly a certain Anonymous (it is ALWAYS the Anonymouses isn't it?) who asked incredulously " How are homosexuals persecuted?" I am begging you O Anonymous! If you would like to find out in just what ways homosexuals are persecuted, kindly go to any street in Nigeria and say very loudly "I am Gay".
If you are still alive after five minutes has elapsed, I'll take you out to dinner. Promise. I might even treat you to some adult entertainment courtesy of fucked gay afterward.
So without further ado, let us discuss the demerits of Heterosexuals since they are so full of themselves and their sexuality.
Don't be afraid to be Anti-Heterosexual.
Heterosexuals are the greatest pests known to the Planet Earth.
They are responsible for overpopulation of the planet, and as a result, global warming and climate change.
You remember earthquake in Virginia that damaged the Washington monument?
Caused by Heterosexuals.
The Earthquake that caused the Tsunami that ravaged Japan this year?
It's all Heterosexuals' fault.
China's One Child per Family Rule?
Completely the fault of Heterosexuals. If there were more Homosexuals in China, the people of China could be leading happier lives surrounded by more cute smiling children.
Mass unemployment in Nigeria?
It's all the fault of Heterosexuals. They produce too many children.
Contagious diseases are also aggravated by Heterosexuals - If there weren't so many people in so little space it wouldn't be so easy to spread disease from one person to another.
Speaking of disease.... Heterosexuals are responsible for the spread of almost all sexually transmitted diseases known to men. Sure, homosexual men are more vulnerable to certain diseases, but the vast majority of all STD transmissions occur from Heterosexual encounters. They may subsequently be required to undergo rapid hiv test to ensure that they are not infected with an STD.
Heterosexuals are also responsible for producing children who later grow up to be world-renowned individuals of the widespread reputation such as Abacha, Babangida, Hitler, Osama Bin Laden, and many other pleasant people. Every single dictator, mass murderer, terrorist, and so on, is DIRECTLY as a result of a couple of heterosexuals somewhere.
Of course, we could argue that every single good person is also as a result of Heterosexuals, but that doesn't change the fact that they're still responsible for all the bad. At least, no gay person has the murky distinction of producing a fine and upstanding child named Idi Amin.
So, my friends, don't be afraid to be Anti-Heterosexual! Because Heterosexuals are ruining the planet.