Discover more from Sugabelly
I think a lot of things
Over 2,000 subscribers
Earthquake and Bombing Update
This week has been useless. In fact, this week might just go down as the most messed up week in history.
First there was the earthquake. I was fast asleep on the floor when suddenly I found myself unable to breathe and woke up. Turns out the vibrations from the apartment walls swinging back and forth were fucking with my lungs and preventing me from inhaling life giving air. Then I realised what was happening and thought 'hell no. I specifically avoided applying to universities in certain states because coming to America to experience earthquakes was never part of my plan.' Next I wondered if I should drop and get under a table (then I remembered there was no furniture in the house and therefore nowhere to take cover) but before I could get on my feet to run out of the apartment, the shaking stopped.
Next came that damn hurricane. It didn't really blow that far inland so that's not even what I'm angry about. My beef is that it knocked out the power and now there's been no electricity since Sunday morning.
Again, I did not come to America for NEPA to follow me here. If I liked NEPA so much, I would have stayed at home.
No electricity = No internet, No way to charge my laptop, No way to charge my phone, No hot water, No washing machine, No clean underwear, No clean clothes.
Of course, if Americans would only introduce themselves to modern technology otherwise known as BUCKETS I wouldn't have to be prancing about in public with no underwear.
So, shitty as my week has been, all that paled in comparison to the rubbish that broke loose on Friday.
Boko Fucking Haram.
May those people be forever stuck in the deepest, darkest, corner of hell. Amen.
Disasters always seem different when you actually know someone who was involved right?
Meet Member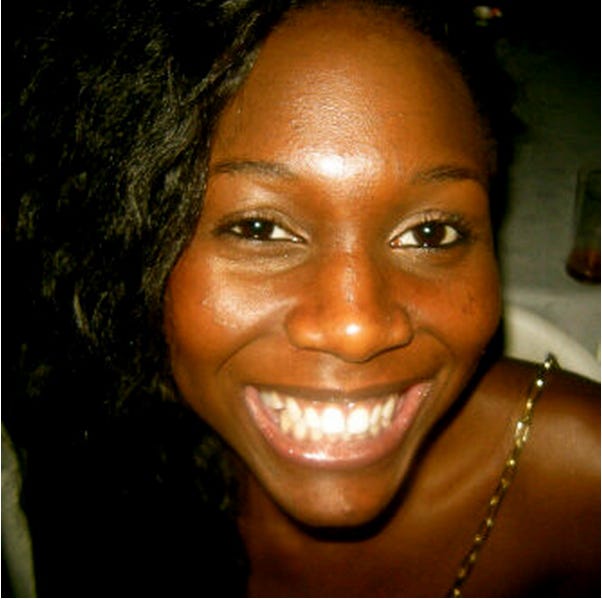 Member (pronounced Mem-Bay)
Member went to Loyola (meaning she is a Loyola Person). She was in my hostel when I was in Js3, and is pretty much an all around nice person. She seems like a pretty nice person abi?
Guess what?
On Friday, Boko Haram tried to murder Member.
She was in the United Nations building when Boko Haram's suicide bomber crashed through with his explosive filled car and detonated the bomb that killed and injured hordes of people. By some miracle, she was the only person that survived the blast on the floor she was on and even then she was seriously injured and in critical condition. She was taken to the National Hospital along with all the other bomb victims but the National Hospital ran out of blood.
Let's just say Member has some insanely awesome friends because Isioma Coker literally (and I kid you not because she actually fucking did it) scoured the entire country by BBM and Twitter for enough blood donors to save Member's life.
Long story short, she is pretty banged up but she was medi-vacced to London and thankfully she will live. I don't think she's in desperate need of blood anymore, but I'm pretty sure all your prayers and well-wishes will be deeply appreciated.
I am not even going to go into how GEJ's useless leadership allowed this situation to even exist in the first place.
I am not even going to talk about how Nigerians continue to allow religion to lead them on the path of stupidity and Boko Haram is just the most extreme example of what goes on in our country every day.
I am not even going to detail how when we are supposed to be moving forward, creatures like Boko Haram are determined to drag us backward with their primitive stone age ideologies.
I am just going to say to all the people who think Boko Haram is harmless, or that they have a case, or who are thinking of sympathising with them. To all the people who refuse to just outright condemn Boko Haram and everyone else that wants to be like them. Remember that Member is someone's child, someone's daughter, someone's sister, and someone's friend. That is who they tried to kill, not just some numbers being rattled off by the newscaster on CNN. They are murderers and they murdered living breathing people. Innocent people that were just minding their business, going about their day and trying to do their bit in the world. They killed people's children, people's sons and daughters, people's friends. They killed their fellow Nigerians, and they tried to kill Member.