Discover more from Sugabelly
I think a lot of things
Over 2,000 subscribers
From the People at G R@dio..
Groundstreet Radio used to be a pet project. It started out as an add-on to my terrestial radio show 90 Degrees that I did on Saturdays for Rhythm 94.7FM. 90 Degrees was great, but there was the whole censorship issue. My target audience was teenagers, but I couldn't talk about some of the most pressing topics that affected them directly. No sex, no drama, nothing. I loved that show in spite of it though. Nothing gave me a bigger thrill than waltzing into the studio (yes, I did waltz), slapping on my headphones, and getting on my mic. (kai! My special mic, I miss you o! I shared it with Zino - by the way Zino, if you see this, I miss you!!! And I am going to call you next week! - and I just fell in love with it.)
I remember my first day on air. Some people that know but don't really know will say that my first day on air was in late January on 90 Degrees, but it actually was on November 8, 2006 at Cool FM. November was a funny month. The mouse on our computer had broken down, and I'd really started following radio shows on Cool FM (my favourites are Click, which is on Tuesdays, and Girl Talk which is every week day - uh ooooohh!!! ), and then one day, Click came on, and they were giving away a prize, and I just called in and answered, and... I won!!! I nearly went mad. I'd never won anything on radio before. Actually, I'd never called into a radio show before, so it was kinda surreal. And guess what my prize was.... a wireless mouse!!
About a week later, I called into another show, and won tickets to the premiere of Stella Damasus-Aboderin's film 'The Widow'. I was on a roll. My mom and I met Nike (pictured above with Katung Aduak, winner of 2006's Big Brother Nigeria) when I went to pick up my gift certificates at Cool FM, and I told her I would love to be on air one day. I just said it jokingly, but a few weeks later, Nike called, and invited me to do Girl Talk with her and Dooshima. I had a blast, and an addiction began. Coincidentally, I was looking for a job. I'd worked a long time in retail, and I was sick and fed up with it. There wasn't an opening at Cool FM, so I tried Rhythm. I did an advert for them, and got called back. There was a spot on a teenager's morning show called 90 Degrees, and it wasn't really what I wanted, but I just took it. (Imagine if I hadn't)
90 Degrees started out with 5 kids, me being the oldest, and slowly dwindled to three as the others found they couldn't/didn't want to keep up the commitment of coming every week, and then it was down to 2, and then it was just me. I started Groundstreet Radio after 90 Degrees wrapped each Saturday. I would run from the studio to the British Council to broadcast G R@dio. It got really hectic though, and I had my regular job during the week, so I decided to give it a rest for a while.
Fast forward about 6 months, and I'm glad to be back on air. Groundstreet Radio is so addictive for me because it's such a learning experience. It's a really successful station and we even work with a fantastic Radio Advertising Agency to ensure we play relevant ads to our listeners. They find us brands that want to advertise on our show and it works so well! It's a great way for us to generate some income too. I always say this, but it's so true. Internet radio is VERY different from regular (or as I like to call it, terrestial) radio. There really is no studio. My studio is my desk in my room at college. I broadcast off my laptop. I use a little retro-style silver microphone, that I bought from Japan, which interfaces with my IBM ThinkPad (Dear God, I really hate my laptop, it is so ugly. Why, why? Did you allow the devil to deceive me into giving my mom my HP?) I manage the callers online,and in some ways it's easier to coordinate, but in many ways, it's not. There lots of things that I could do with terrestial radio that I can't with internet radio, and there are some things that I can do online, that I couldn't with 90 Degrees. The home of Groundstreet Radio right now is: http://www.blogtalkradio.com/groundstreet, but hopefully in the near future, I will be moving. I love blogtalkradio, but I wanna do my own thing.
So far, I've covered anything under the sun, from the Jena 6, to Sex, to Thanksgiving shopping, but upcoming possibilities include an interview with Teleola Akinlawon from Godkulture, and many other sassilicious mini-projects that I'm keeping secret for now. I'm so happy with the response I'm getting as far as the show is concerned. The last show had 237 downloads within two weeks. I know it sounds small, but that's a big deal for a new show starting up in a world where the veterans have staunch, die-hard fans. I want to make it so much better because it's my baby. I know I'm young, but that just makes victory ever so much more sweeter.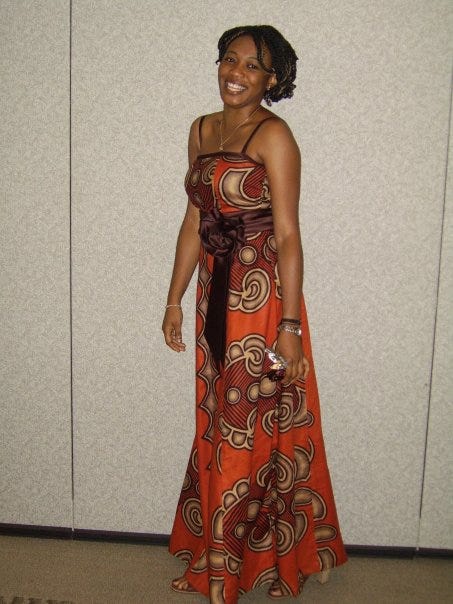 That being said, I just want to ask everyone to please vote for Nike Coker for the Future Awards 2008. She's in the category of On-Air Personality of the Year, and she is so talented, hard-working, and just brimming with fabulousity! This year she made great strides in her career with the launch of Sista-Sista, and Pebbles Entertainment. See Nike's MySpace HERE Nike has a marvelous energy that just infects her audience and everyone around her. She deserves this Future Award more than anyone else because she is such a force and is completely awe-inspiring. She inspired me, and has progressed so much from simply broadcasting, and has such presence that she blows everyone away. Kudos darling! Check out the Future Awards 2008 HERE