Discover more from Sugabelly
I think a lot of things
Over 2,000 subscribers
I Bring What I Love
I just got back from seeing Youssou N'Dour's documentary at The Paris Theatre. It was moving, soulful, very warm, and I feel that he really was able to convey his love for his music and his country and his people and his family and his religion, and I feel that it's very interesting to discover the different ways in which we all interprete the human experience and despite my grievances with Islam and African followers of Islam, Youssou N'Dour, at least for me, was able, in this film, to for the very first time, truly separate Religion and Culture, and curiously reunite them to create a new picture of Islam where just faith shines through.
Honestly this is the first time for me, that I have been able to look at an African man who believes truly in Islam, and not think in my head "You are deceiving yourself". And I say this because, for so many people all over the world, whether they realise it or not, their religion Islam, is a concentrated infusement of Arab culture. And while I do not "hate" Arabs per se, you cannot ignore the fact that there are black African slaves in Arab countries TO THIS DAY. And you cannot ignore the fact that black Africans in general (and of course this would by default extend to all black people in general) are quite often treated like scum in Arab countries or by groups of Arabs. Of course like everything else that happens on this Earth, it is not all the time, neither is this done by all Arabs, but the fact is, it does happen, and these Arab countries, nationals, people, etcetera couldn't be less bothered about the fact that there is a known African slave down the road from them.
Also, there is the issue of how supposedly there is "no racism" in Islam, and supposedly "there is no slavery under Islam" but we all know that the Prophet Muhammad (Peace Be Upon Him) spoke about slaves, and said that it was totally okay for Muslim men to "take" slave women that they "possess with their right hand". Obviously, this is not a direct quote from the Quran, and unfortunately, memory fails me as to where exactly in the Quran one might find this particular statement, however, the good Muslims among you might be able to point us in the right direction.
The point I am trying to make is: Arabs (from whom the religion of Islam first sprang and who insist on forcing their language and culture into everything about Islam so that Muslims all over the world generally tend to learn Arabic whether they give a shit or not) generally do not have the best human rights record concerning Africans, those of African descent, and basically anyone darker than a really light-skinned coconut. And since most of Islam is really Arabic culture in disguise, (just as most of Christianity is really a combination of Hebrew and European culture in disguise) I then find it quizzical that so many Africans should choose to embrace, emulate, and propagate the religion/culture of a group of people that have historically been bent on either enslaving them or raping their women or just generally treating them with minimal dignity up until the very, very recent past if not the very, very current present.
I already know the answer to my own question or ponderings. The point is, Islam is a RELIGION, and as most religions are, it is about God. Human beings unfortunately tend to make religions about themselves by creating silly rules that generally reflect their own culture and make it hard for people of other cultures to embrace the religion without heavily discomfitting themselves. (Note, the original proponents of the religion don't feel uncomfortable at all because they already designed the religion to match their lifestyle before they sent it out for mass production - case in point: Islam and Arabs. The Arabs feel just fine, but any other Muslim from another culture has to actively change great swathes of their customs, behaviour, etc to resemble that of Arabic culture more closely - Not cool.) And for this reason, I found African Muslims slightly annoying.
What am I getting at? Youssou N'Dour's film made the separation that most African Muslims cannot make. Yes, he is Muslim, yes, they all are Muslim, but being Muslim and believing in God does not mean that Senegalese culture is inferior to Arab culture. Just as when the Europeans came they told us that all our culture was bullshit and that we were to drop it and emulate them because their culture was far far better than ours, the Arabs did the same thing with those parts of Africa that they managed to invade. And I guess what I mean is, if WE had invaded Arabia and Europe instead of what actually happened, THEY would be the ones aping us now because THEY would believe that THEIR culture was inferior to OURS. No religion is transmitted purely, and what I mean by this is that every time someone is converted to a new religion, they are indirectly and unconsciously converted to the culture of whoever started the religion which is why Hausas try to act like Arabs and go on holiday in Dubai and Igbos try to act like Europeans and go on holiday in America and England.
The reason I am pointing out this separation that I saw, and the reason that I find it so profound is that too often we Africans are far too ready to give up what is ours for what is someone else's, and that someone else, again too often, doesn't value what we have to give. Because of this film, I understand more deeply why those Africans that are Muslim remain so. Because of this film I understand why we can put aside the evil intentions of some people even though we share a faith with them. Youssou N'Dour makes faith in God bigger than the petty bitchassnesses that humans tend to commit against one another in the name of superiority (read: Arabs against Africans). For the FIRST time, I have seen an African Muslim take Islam, and TRULY make it his own. For the FIRST time, I have seen an African Muslim live an Islam that is not about Saudi Arabia and glorifying Arabs and their lands. Youssou N'Dour sings about the Muslim heroes of SENEGAL. I'm not saying Arabs are bad people in general but I am saying that far too often, part of Islam is about Arabs basking in the glory of how much better they are than the rest of the Muslim world simply because the Prophet Muhammad (Peace Be Upon Him) was an Arab and because Islam started from Saudi Arabia.
Please see Eccentric Yoruba's fascinating post on the clash of her African Identity with her religion Islam.
There is supposed to be brotherhood (and I imagine sisterhood) in Islam, but the way things are right now, there is no brotherhood in Islam. I am Catholic and you all must be wondering what fucking right I have to discuss this, but let me just say that this is the view from the outside looking in. Maybe there's some other stuff that they do behind closed doors that I don't know about; I won't claim to know, but half of my family is Muslim, and Bakura as you all know, is Muslim, and pretty much every boy that I havc ever dated has been Muslim (total random accident) so I've observed a little.
Point is, it was a great film. It made me appreciate Islam for the religion that it is rather than be annoyed with it because of the people that follow it. Hey, I definitely don't agree with everything that Islam teaches but it was great to see Africans that follow Islam because they truly believe and not just because they are zombies acting on what the Arabs have forced down their throats. So in that light, I say Yay true followers of Islam! May God bless you and strengthen your faith! And to everyone else, I say "Faith trumps all. Human beings mess stuff up all the time, even something as sacred as religion and God. Don't let the HUMANS fuck up your approach to God because they will if you give them even an inch"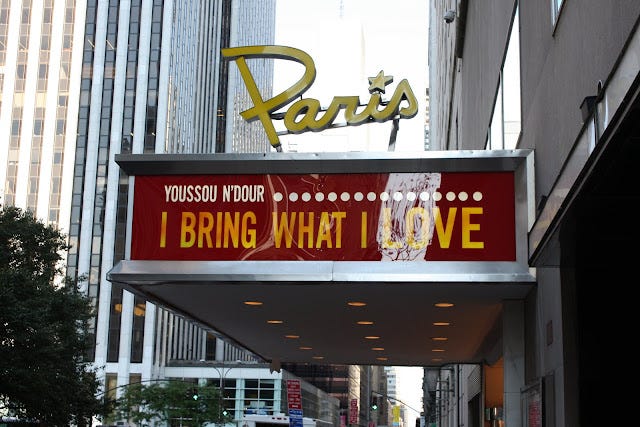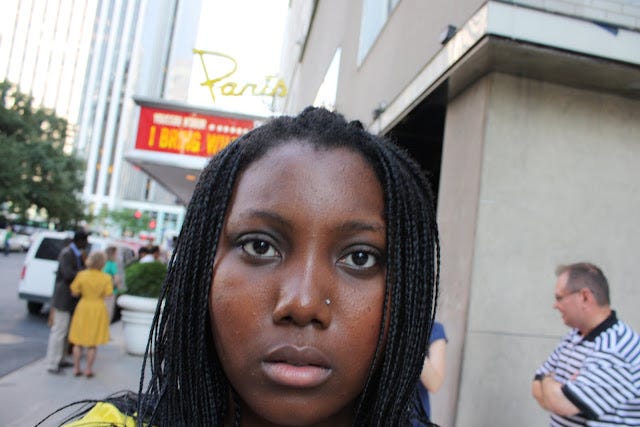 Outside the Theatre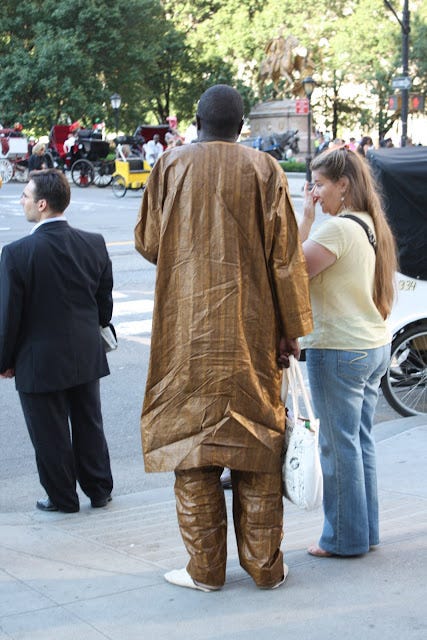 Waiting for them to bring the car around I suppose
Sorry, this was the best I could do (on ZOOM LENS)
I hate bouncers
And on that note, I end this post.