I was reading something mildly pornographic...
...when I came across this gem of a comment under the main article: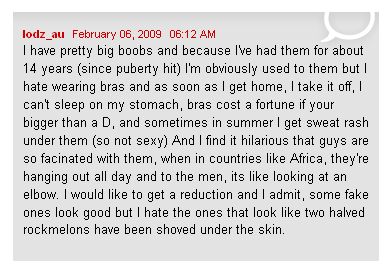 This comment really entertained me! Can you relate? It absolutely fascinates me that men are often so enthralled by a pair of breasts.
Life is just too short to take anything too seriously after all, especially where sex and our bodies are concerned. If we did not laugh we would cry, and sex is no exception in this regard.
Speaking of pornographic material though, personally I would even go so far as to say that, when enjoyed in moderation, pornography, like the kind of content you can enjoy on websites such as sex hd, can greatly enhance your sex life.
Just remember to take everything you see with a grain of salt. Pornographic films often involve production values and large amounts of preparation for the actors and actresses involved so try not to compare your own physique or performance to the ideals that are portrayed on screen.
Have you seen anything that made you laugh recently? Let me know in the comments below.