Just Got Back from Femi
The show was beyond amazing. Here are the pictures I took: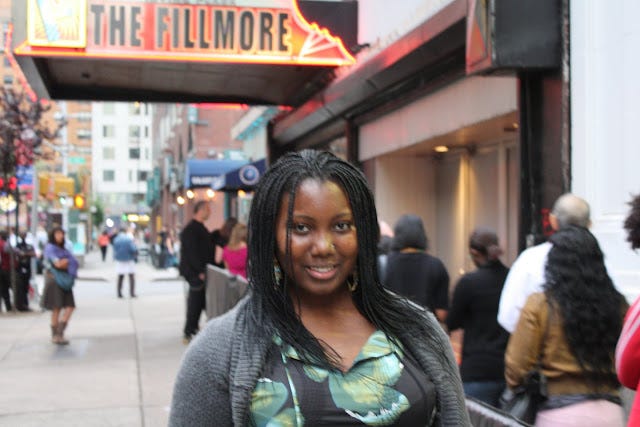 The show was at the Fillmore on Irving Place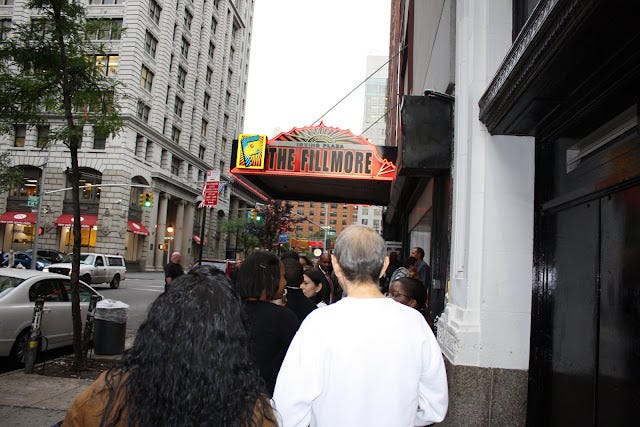 The line was crazy
The first act - Black Jacks - opened for Femi
Me in the crowd, it's a little fuzzy but hey. I was right in front at the metal barrier before the stage :D
I met a gorgeous lady with the dopest Ghanaian earrings EVER! She told me where she got them. There'll be a man at the African Festival on the 4th of July.. ... These earrings shall soon be mine :D
The Nigerians were of course, out in full force
Setting up Femi's sax behind a screen. I was so close though, I got a shot from under.
I want to be a shrine dancer when I grow up
Femi's girls are dope Beyonce ain't got shit on these girls She probably watches old Femi and Fela videos to see which moves she can fap I would do them all in a heartbeat Especially the one on the right
It ROCKED! You have no idea...
After standing for five hours, I took off my shoes to let my feet rest I am now probably going to get warts :( Oh shit. I just realised my feet are on my bed. Ewww
This dude's afro-dread mohawk was sick.
He sang a lot of new songs and old favourites The crowd was singing along
Aww, he looks just like Fela here. He sat on one of the speakers to shake those of us in front. Femi Kuti fist-bumped me. It was fucking awesome.
While the girls were dancing... The DUMBASS man next to me started throwing $1 bills at their butts I was so disgusted Just because a lot of Nigerian dance appears sexual Does not mean they are strippers.. X(
There are the dollar bills on the stage Security told him off and bounced him... fast Fucking Perv...
Me leaning on the stage barrier. My feet were aching so bad
Some girl screamed out "Femi marry me!!" It was too funny
When he left we all broke into a chant "FEMI! FEMI! FEMI!" So he came back... ... and broke into 'Bang! Bang! Bang!'
When he was done, a member of his band did one last set
The final bow (missed the actual bowing part)
The presenter announcing the venue of the After Party I was too fucking tired to go
This DJ and I had a very animated conversation about afrobeat, language, culture, oil, politics, and life in Nigeria. He gave me his card and told me about another show to check out. He's good people. ;)
I met up with my friend Tunde at the show. Luckily Tunde came with his car because I was too tired to take the subway home Yay to friends that drop you off!
Nigerian Music is the Shiznit. Femi Kuti will be playing a FREE show at Prospect Park in Brookyln on the 25th. I got this information from the DJ. I told you he was good people.
p.s. I have lost my voice from screaming There is a funny ringing in my ears
Because I love you all, I made two videos.
The first's up top. Here's the second: