Discover more from Sugabelly
I think a lot of things
Over 2,000 subscribers
Leggy said something...
...That confused the hell out of me: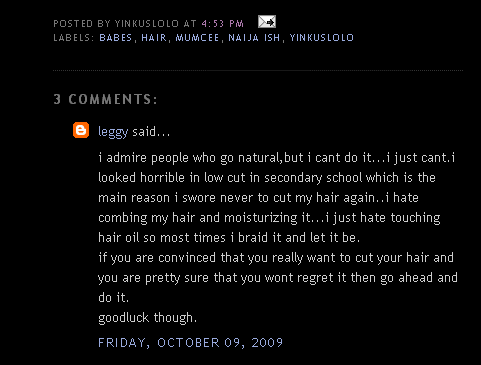 Perhaps I'm misunderstanding something here, but the last time I checked, between having natural hair and having relaxed hair, it was only relaxed hair that actually involved doing something.
Also, I find it rather strange when people (especially and most particularly Nigerians) claim they look horrible with their natural hair (low-cut or otherwise).
I have said before, and I will say again, that most Nigerians have no idea what their natural hair looks like. Sure, you can argue that a lot of us went through the Secondary-School-Low-Cut system, and so how can I be saying this, but at the same time, I don't think I would be wrong to say that at the very least 96% of Nigerians in Nigeria (and possibly at least 85% of Nigerians outside Nigeria but in regular contact with Nigeria as an entity) treat natural hair as though it were Caucasian hair.
What do I mean by this?
I think it would be correct to say that:
Most Nigerians think natural hair is "strong" and therefore tend to use extra force when combing it.
Most Nigerians comb natural hair when it is dry.
Most Nigerians comb natural hair every day (or at the very least, every other day).
Most Nigerians think that not combing hair is an infallible sign of dirtiness/bad hygiene.
Most Nigerians put mineral oil on natural hair (those jars of Apple hair cream anyone??? Or even the blue Bergamot hair oil has mineral oils in it)
Most Nigerians apply excessive heat to natural hair (Blowing out anyone? Who hasn't seen the columns of smoke rising from the hand dryer at Follicles when the girl is stretching out your hair)
Most Nigerians wash natural hair often.
All these things are things that you should NEVER EVER do to natural hair, yet most Nigerians upon encountering Natural hair, rush to do them IMMEDIATELY and WITHOUT REMORSE.
The result is that with the exception of our Fulani friends, Most Nigerians have never seen their natural curl pattern. Most Nigerians have never felt their natural curl pattern because they are too busy trying their best to tame, compel, and subdue the animal that they imagine natural hair to be.
Now, these are all generalizations (hence the word "Most") but at the same time, as a Nigerian I think these are pretty damn close/good generalizations. Why? Because all of them are true to a very great extent.
Now to my point. Leggy is expressing a fear of going natural because she doesn't want to "comb her hair and moisturize it" or "touch hair oil". Now I am going to make a gross assumption here, and Leggy and anyone else is free to correct me if I am wrong, but I am going to assume that the hair oil Leggy is referring to here is the kind of hair oil that 'Most Nigerians' are familiar with (in other words, it is packed full of mineral oils).
Assumption aside, Leggy's fear of natural hair is worrying (and perplexes me) because it is based on false information.
Problem: Leggy is assuming:
a - that she will have to comb her hair if she goes natural
b - that combing her hair while natural is going to be unpleasant
Here's the thing. Part of the point of being natural is NOT combing your hair so that you can see what your REAL hair texture and curl pattern are. Sure, you will have to detangle your hair once in a while, and sure there are certain hairstyles that might require you to comb your hair first, but for the most part, if your hair is natural, you DO NOT HAVE TO COMB YOUR HAIR.
Back to the assumption. I am assuming that Leggy intends to put loads of mineral oil in her hair in the name of moisturizing. I could be fucking wrong but that is why I'm letting you know that I'm assuming.
Mineral oil is the kiss of death for natural hair. It's horrible, it sits on your hair, it makes your hair all kinds of greasy and doesn't do shit to help it. If there is one thing Nigerians adore, it is piling shitloads of mineral oil in their hair. How is this relevant? Well if Leggy does decide to stop relaxing her hair and she then proceeds to use mineral oil (with inevitably bad results) this might lead her to believe that natural hair is unmanageable, or doesn't grow.
I think that a lot of the people that claim that natural hair 'isn't for them' are not making an informed decision. An informed decision is one where you know all the possible outcomes of all the choices you have.
If you have never tried to nurture your natural hair (and done it the proper way) then you cannot make an informed decision about being natural. You just cannot because you simply do not have the information.
Which is why I get annoyed when some of my friends say things like "you're so brave to have natural hair", or "I could never do what you're doing" or "Natural hair won't fit me" or "I don't think I was meant to have natural hair (this one is especially retarded)". First of all, most of the people saying this have no idea how to take care of natural hair. Their only impulse when it comes to natural hair is to subdue it by all means possible, which frankly, will get you nowhere fast.
Being natural is the default Nigerian condition. There is no other ready-made option. Relaxer is the one that requires effort. In order to have relaxed hair you have to be active about it. That is not to say that one is necessarily passive about their natural hair, but the level of activity required to nurture and maintain natural hair is no greater than the level of activity required to nurture and maintain the rest of the body normally.
Relaxed hair on the other hand is extremely unmanageable, involves pain and bodily harm, requires constant maintenance, gives very little to no love back for all your hard work, forces you to modify your lifestyle significantly for its sake, and basically acts like a spoilt toddler with a tantrum.
Caucasian hair is the strongest of all hair types. It can endure atomic bombs and still come out throwing punches and giving you the finger. African hair is the most fragile of all hair types. Any amount of stress can cause it to break or just plain give up. Yet because of its appearance African hair is unfairly labelled tough, hard, strong, stubborn, etc, and treated accordingly.
I don't even want to go into all the social and mental baggage and drama surrounding Nigerian attitudes to natural hair. I'll leave that for another day, or maybe I won't talk about it at all because I'll just lose my temper. This post is just about the technicalities of natural hair.
I didn't write this post to call out Leggy. I wrote this post because I think that as far as natural hair goes, Leggy isn't making an informed decision/statement about it, and quite possibly, neither is JuiceeGal (who announced that she was reverting to natural and from whose blog the Leggy comment comes) who also expressed undue worry about her natural hair.
Ultimately, everyone does whatever they want to do, but I think it is important to know all the facts first before deciding that something is not for you. I am just concerned that most of the Nigerians that share Leggy's sentiments about natural hair don't know enough about their natural hair to even legitimately have that sentiment in the first place. I don't claim to know all there is about natural hair, but I do recognize that I definitely know far more about my hair than I ever did when I was fifteen or all through boarding school (when I had to have short hair anyway).
In boarding school I did my hair no favours. I combed it dry without fail every day and then I slathered on "hair cream" which was mostly made from mineral oil. During the breaks I would go to hairdressers that would complain bitterly about my hair and then use blast-energy blow dryers to stretch it into submission. They would then rub even more mineral oil into my poor hair. Let me say though, that the Nigerian educational system is also to blame, as well as Nigerian teachers and school administrators. Even if I had known better in boarding school I still would have been forced to damage my hair. In most boarding schools, those who do not comb their hair are instantly labelled dirty, unkempt, and generally get into trouble and/or are punished sooner or later. Students are encouraged to comb their hair with smaller and smaller combs as this "effectively" gets rid of the kinks which are considered rough-looking.
I could do ten whole posts about the self-defeating effects of Nigerian mentality on natural hair but not today.
I just think it's important to arm yourself with all the relevant information about your natural hair and your possible texture and curl pattern before writing it off.
Below is a picture of my hair uncombed (I've posted it on this blog before) as well as very useful resources for all things natural.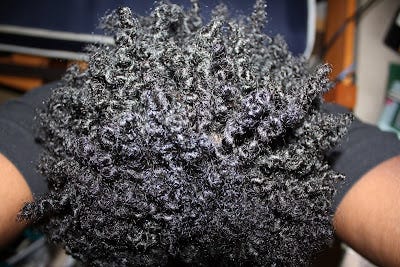 http://blackgirllonghair.blogspot.com
http://thenaturalhaven.blogspot.com
http://leaveinthekinks.blogspot.com
And for inspiration that hits very close to home:
A Nigerian with the most absolutely luscious, long, beautiful natural hair.