Let Meeee... Let Me Draw You!
Call this my Christmas promotion if you like, but I have some free time as far as art is concerned so commissions are open and I'm looking for victims subjects to draw! What I'm going to be doing is strictly portraits like so below: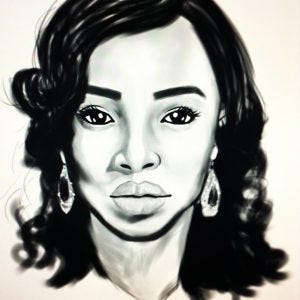 Portraits usually cost $100 / ₦16,000, but for the whole of December, they'll be cheaper by almost 50%.
If you want a digital portrait like the one I did of Toke Makinwa (on the left), it's ₦8,000 / $50.
If you want a traditional portrait like the one I did of Tonto Dike (on the right), it's ₦10,000 / $65 (because I have to physically mail your portrait to you using Fedex or UPS instead of just emailing your portrait file to you over the Internet).
So people, if you want to get your portrait done, hit me up!
Rules
I will do five (5) portraits a week.
Portraits are from the neck up only, and monochrome / black and white (see the examples)
You can tell me any special features you want on your portrait (e.g. if you want horns or vampire teeth, or a bowtie or a certain hairstyle - PROVIDE PICTURES where possible)
NO revisions ( these are half price remember)
Only one person per portrait ( Two people can't be included in one portrait, each has to have a separate portrait)
For Traditional Portraits
Traditional portraits will be done on 11 x 14" smooth bristol
I cannot frame your portrait for you.  If you want it framed you'll have to get it framed by your local framing dude.
Shipping
Every week, I will ship out all the traditional portraits that have been completed the week before.
I am not responsible for any damage that occurs during shipping.
(But I will threaten the hell out of Fedex and UPS to be careful, and of course, package your portrait as safely as possible)
To draw your portrait I need at least three clear pictures of your face in the angle you want, and a description of any details you might want added (e.g. glasses, earrings, etc) as well as any pictures
Payment
If you're in Nigeria, payment is by bank (online transfer, direct deposit, whatever your prefer).
If you're outside Nigeria, payment is by Paypal.
Send me an email at sugabelly@gmail.com (or using the contact form on my blog) with the subject "PORTRAIT REQUEST" and I'll reply with payment details.
I will start on portraits in order of payment, and provision of full details ( pictures, etc)
The first person to comment here requesting a portrait will get one for free! ^_^