Discover more from Sugabelly
I think a lot of things
Over 2,000 subscribers
Master Cleanse and Some Art
So I suggested to Sting that we have a weight loss competition. Not because I want to have a weight loss competition but because we both want to lose weight and it's always easier when you have someone to report to or someone doing it with you. I've got to admit though, there is a competetive side to it. Is it cheating if I buy HCG for sale online to help speed up my weight loss easily and cheaply?
My original starting weight last term was 251lbs but by the end of the term I had dropped to 233lbs. By the beginning of this term however, I had gained a couple of pounds.
Sting already fell off the bandwagon (she put up a post a few days ago saying she was sick and so had to eat) so I'm officially declaring today the start of our diet. A few friends of ours have been doing a Houston weight loss diet and have been losing a considerable amount of weight and I'm slightly envious, so today I am back on track!
The rule is, whoever reaches their target weight first wins.
My target weight is 125lbs.
Starting from later on today I will be doing the Master Cleanse for ten days and I will update my progress here daily. Sunday was the preparation day and I went out and got all my ingredients that I would need to do the cleanse.
I'm following the rules on http://themastercleanse.org, and I already took the beginning laxative so I'm assuming that I shall have to visit the toilet pretty soon (gross I know, but necessary). I've never taken a laxative before in my life so I'm very nervous about this. Maybe I should get some CBD from https://vibescbd.co.uk/ just in case I get stomach cramps, or if my nerves get too much to handle.
My starting weight is 238lbs.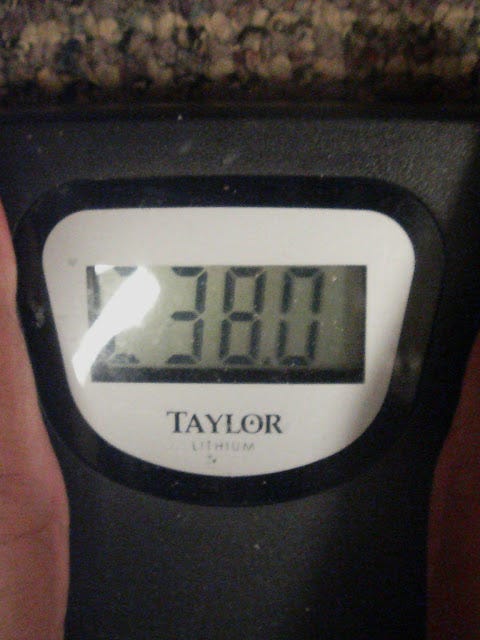 Yes, that is my scale, and those are my feet.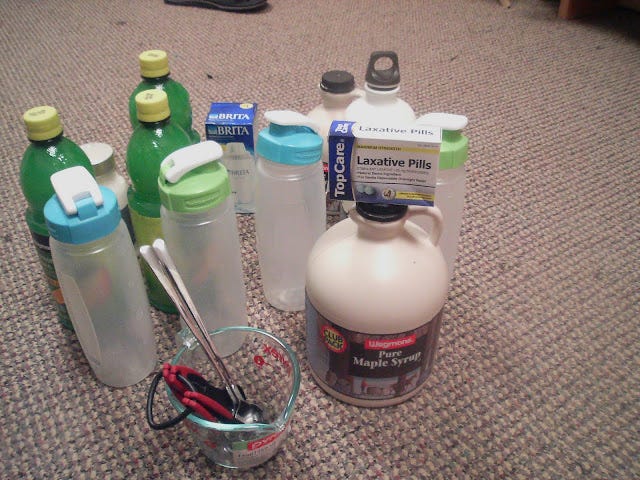 Here's my equipment:
Lemon Juice
Maple Syrup
Cayenne Pepper
Laxatives
Sea Salt
Measuring Cup
Long mixing spoons
Measuring spoons
Bottles
Brita filter
So basically I'm going to mix two tablespoons of lemon juice with two tablespoons of maple syrup and 1/10 teaspoon of Cayenne Pepper with 8oz of water and I will drink eight cups of this every day and forgo all food whatsoever for the next ten days.
It will be hard. I will be hungry. I probably will even be miserable, but I hate being fat more than I fear being hungry.
At the end of everything if I am successful, I will post before and after pictures. But until then, here is my starting information (taken on Sunday):
Master Cleanse Pre-Day:
Starting weight - 238lbs
Chest circumference (below breasts): 36 inches
Chest circumference (above breasts): 38 inches
Chest circumference (breasts included): 45 inches
Waist circumference: 36 inches
Abdomen circumference: 44 inches
Hips: 48 inches
Thigh (single) circumference: 30 inches
Calf circumference: 17.5 inches
Ankle circumference: 10 inches
Upper arm circumference: 15.5 inches
Lower arm circumference: 12.5 inches
Wrist circumference: 7.5 inches
Neck circumference: 15 inches
And before you scream in horror, remember that I'm practically six feet tall (I'm 5ft 11.5 inches) so it's not like I'm short and stout or anything.
In other news, last night I couldn't sleep so I decided to draw something. I ended up with this.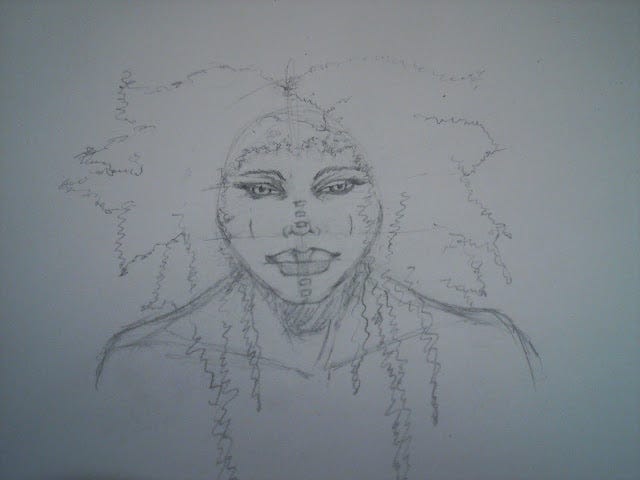 A random drawing (not a character from my story)
Pencil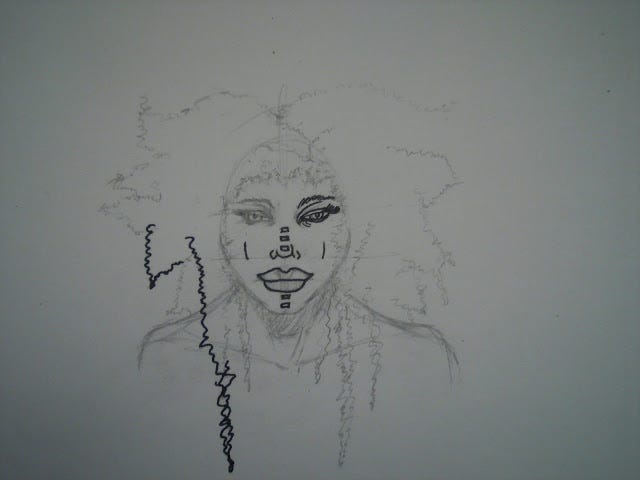 Beginning the inking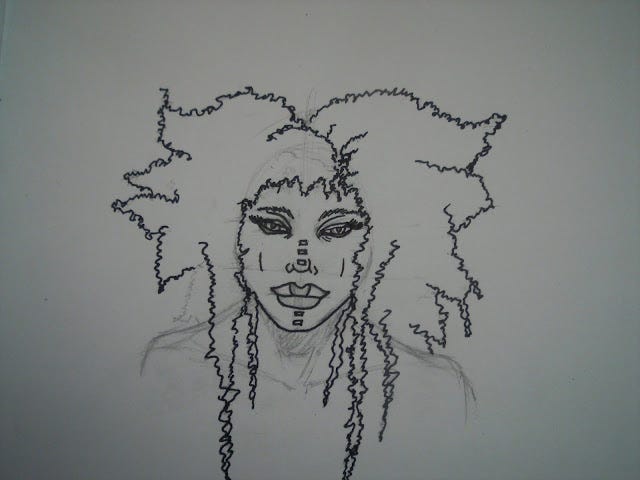 Inking almost complete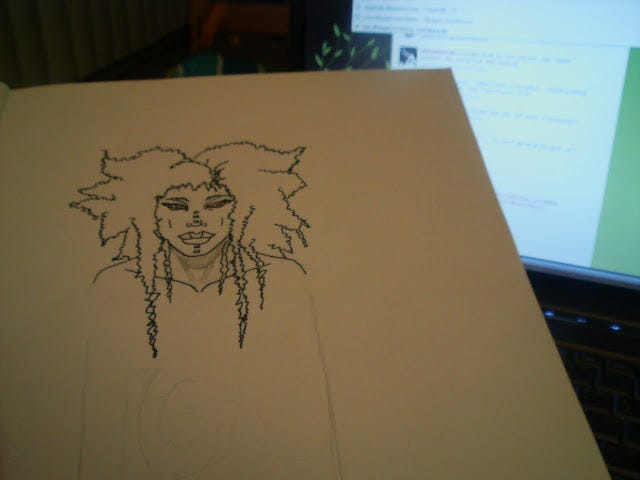 Not sure what to do with the body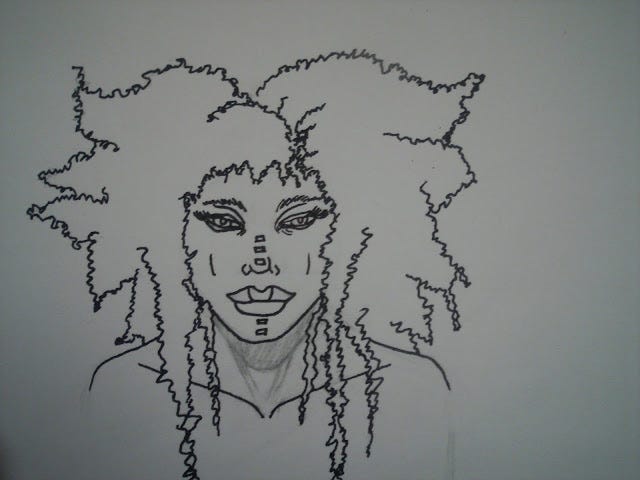 Cleaned up (pencil lines erased except for jaw shadow - still afraid to ink that part)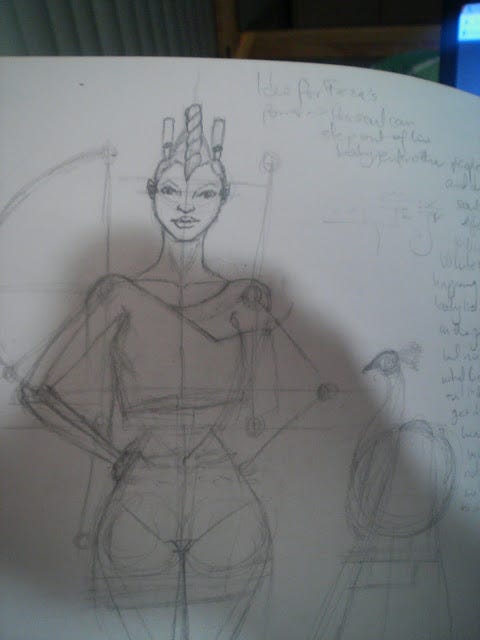 Utomi - a character from my story
She's not finished yet
And that thing next to her is a peacock (or at least it will be)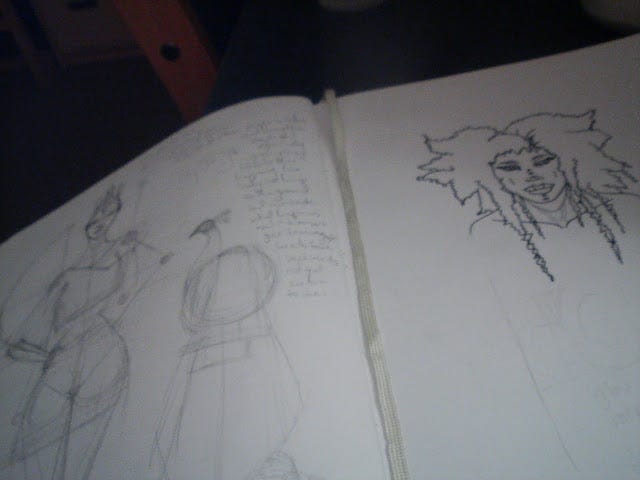 My sketch book is full of semi-finished drawings :(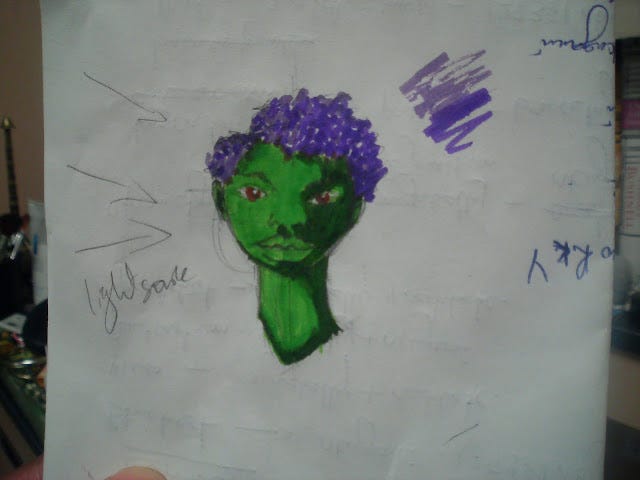 My very first attempt at colouring with marker!!!
I used washable markers to do this so it's definitely not as good as it would have been if I had used an alcohol based marker.
Also I did this drawing and coloured it on a piece of scrap paper I found in my bag.
His skin is green, his hair is purple, and his eyes are orange.
Yeah, so that's what I've been up to. I'll be updating every day until the diet is over. I'm not looking forward to the salt water flush at all. I have to mix a tablespoon of salt with a litre of water and drink it all at night. It's supposed to make me poo. There are a couple of bloggers that have done this cleanse (no Nigerians that I know about though) and they all came out with improved health, radiant looking skin and a sunny disposition so I'm hoping my results will be positive.