Discover more from Sugabelly
I think a lot of things
Over 2,000 subscribers
Master Cleanse Day 2:
So far so good. Today was another easy day. I didn't feel hungry. I didn't even crave food, although there actually was an incident in which I almost ate a bagel. ALMOST! It was dreadful. There I was, minding my business walking down the hallway when I turned a corner and ran smack into a box of bagels with a sign 'Take one' on it. For a second my hand involuntarily reached out but then I gave myself a mental slap and my arm just hovered in the air over the bagels.
It was temptation but will power won out. Tufiakwa to random food that just sneaks up on. Whew!! At that moment you got to think about That was a really close call.
That aside, everything else went pretty well.
Hang on, did I say everything? Everything was going so well, and then.......
Of all the things that could happen just when I decided to go on the Master Cleanse. Of all the things that could happen just when I started a liquid diet, it had to be THIS ONE THING!!
Now not only will I be starving but I'll be losing blood too.
My period came! Today!! Why oh why did it have to pick THIS WEEK?????
First of all, my period is late by about 22 days. Seeing as the only sex I've been having for a while has been in my mind, I didn't really give a shit.(lol, no Saltwater flush pun intended) so excuse me if I'm not pleased that it decided to show up in the middle of my liquid diet and fuck me up.
The next five days are going to be an exercise in sheer will. How do I know? Because I have one of those periods. It's always five days. ALWAYS. Talk about Murphy's Law.
So, I weighed myself this morning when I woke up and I guess the figure I got is a continuation of the original weight loss from day 1, so the official figure for Day 2 (today) will be from when I weigh myself tomorrow.
Either way, here's my final weight for the end of Day 1 (i.e. the morning of Day 2). Maybe I should add weight loss supplements like MCT Wellness to my diet to actually boost my metabolism and speed up weight loss.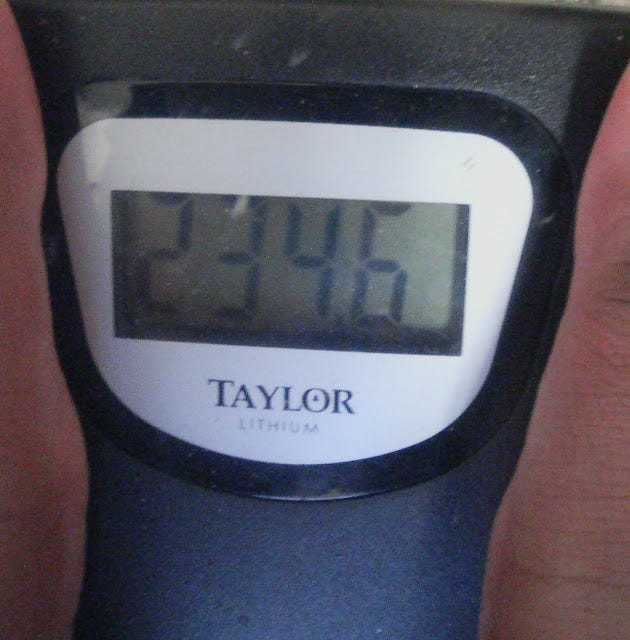 Yay!! 3.4lbs lost!
In other depressing news: It is time for me to do tonight's Salt Water Flush (yes, which shall henceforth be known as the Fireshit Flush). This has got to be the WORST part of this diet. I've packed up my sketchbook and my pencils and ink pens. Yesterday I was unprepared. Today however, I am going to properly situate myself in the bathroom. Since I'm going to be otherwise incapacitated for the next two hours, I might as well be productive.
I'm going to do a few drawings on the porcelain throne...