Discover more from Sugabelly
I think a lot of things
Over 2,000 subscribers
Master Cleanse Day 3:
Today started really badly. I think it had something to do with my period. Who knows, but I woke up with a splitting headache in the base of my skull. Plus I overslept and was really late for work. The day went by rather slowly and I felt a bit ill for most of it but I thought that I might be a little dehydrated so I went downstairs, walked past all the delicious smelling food and bought a litre bottle of water and drank it (in addition to my regular lemonade). I've been looking into the lectin shield supplement and seeing if that can help control my out-of-control food cravings. It's had good reviews and it's certainly something I'm considering. I think after this cleanse I'm going to do a little more research into supplements and see what's available because these cleanses are getting harder and harder.
Drinking the water really improved things although I had to go to the bathroom every fifteen minutes. Plus I'm peeing pure water now (yes, from the RIGHT place) which is happening I assume because there's nothing in my system by this point. (Wow, I can't believe the last time I ate any food or drank anything else was Sunday afternoon).
I didn't feel hungry today either although because I was feeling ill I finished my lemonade much faster than usual and didn't stick strictly to my usual drinking timetable (I space the cups so I drink the equivalent of one cup every two hours).
I'm sitting on the toilet right now having done the Salt Water Flush about an hour ago. I guess based on that I've only got one more hour of butt-peeing left to do. I did weigh myself this morning and I had gained a pound (which I'm guessing is due to bloating from my period). I think next time I may try using things like the best CBD oil in order to help with any digestive issues and reduce bloating before I weigh myself if it happens to fall on my period again. I haven't weighed myself this evening yet. I don't think I will, but I will weigh tomorrow.
I also haven't measured myself yet, but I will and then I'll put up the measurements later. My food cravings have almost disappeared entirely now. I don't think about eating all the time like I was doing a week ago. I'm finding it easier to focus on other things (although now I have to defeat my procrastination demons).
Generally I feel pretty good. I feel a lot lighter. I used to feel bloated and sick all the time so I can say I feel much better.
Scale Photo Verification: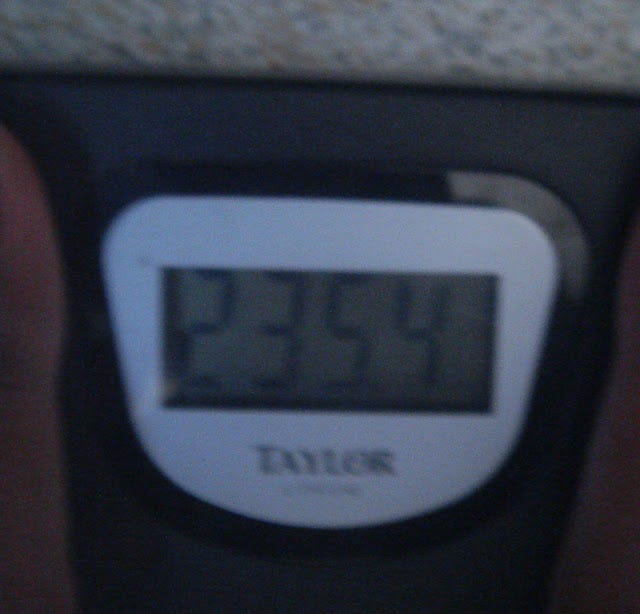 Sorry it's fuzzy again.
Update: I weighed myself again this morning. This is the final figure after the completion of Day 3 (yesterday)