Discover more from Sugabelly
I think a lot of things
Over 2,000 subscribers
Master Cleanse Days 5, 6, and 7
This was both a busy and lazy weekend for me. My school had an International Cultural night which I attended and there was food EVERYWHERE. Really really great smelling (and probably tasting ) food. I was so tempted. Not because it was food per se but because this was traditional food from all these countries which I'd have to wait another year to try if I missed it.
Never fear however, I persevered and ate nothing. Not even a bite. I packed my lemonade with me and drank two bottles of that in lieu of sampling all the scrumplicious food. (it made me so sad).
Sha sha, I did plan in advance. I packed a container in my bag so I filled it with all the food I went around collecting and now it's sitting in my freezer until the Master Cleanse is over and I can eat again.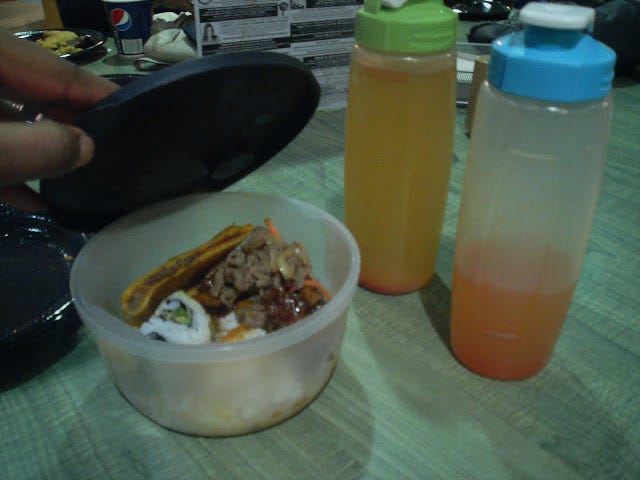 My stash of random intercontinental food
I drank half of one bottle there and then to stave off cravings
Polished off the rest as the night progressed
I'll thaw and reheat the food next week
Friday which was Day 5 was pretty good. I woke up feeling great. Saturday was also the same way. No hunger, no cravings, nothing. However, last night (still Saturday) I did the Salt Water Flush really late so I ended up sitting on the toilet till 3am.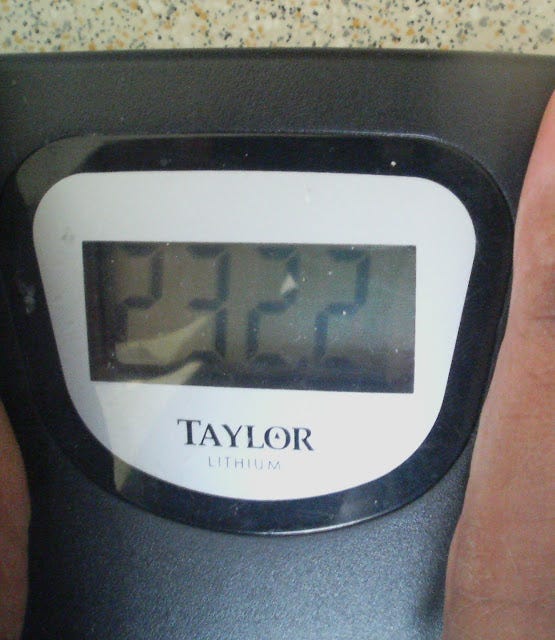 My final weight after Day 4 (morning of Friday - Day 5)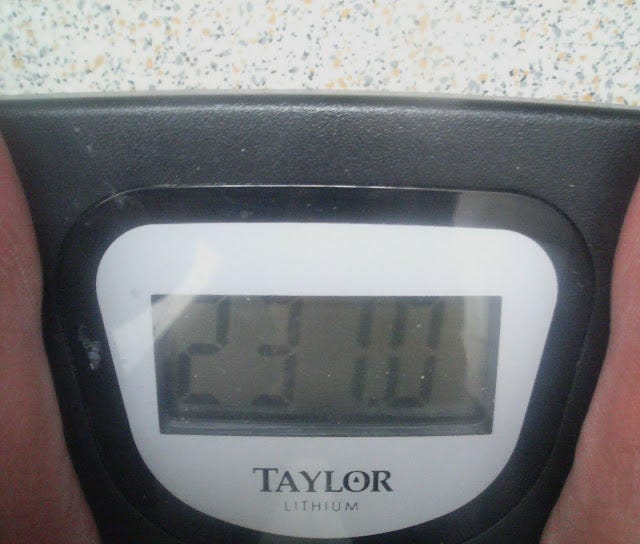 My final weight after Day 5 (morning of Day 6 - Saturday)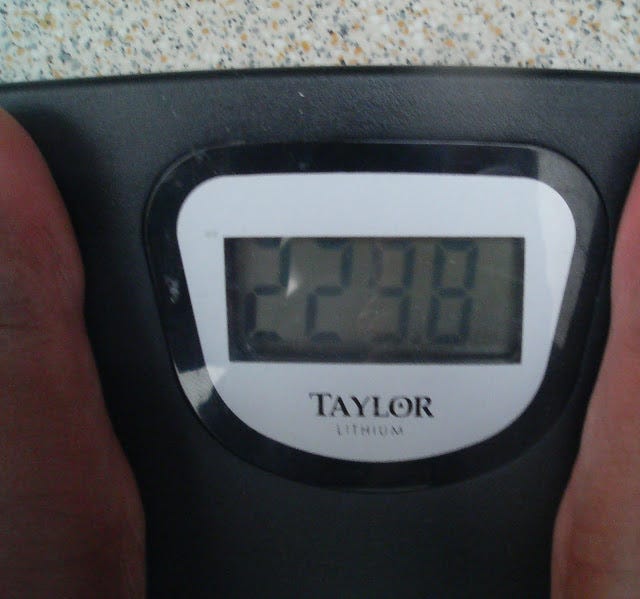 My final weight after Day 6 (This morning -Sunday, Day 7)
Woohoo!!!!! I'm in the TWENTIES!!!!
So I was sitting on the toilet, talking to Mellowyel when I realised how FED UP I am with these Salt Water Flushes. First of all the salt water is disgusting to drink. I almost threw it up last night but I managed to down the whole bottle AND not throw up. Second, it makes you poo gallons and gallons of hot peppery water.
Third, the pepper burns your ass. Fourth, sitting on the toilet for two hours plus at a time makes me legs fall asleep which is not cool when I try to stand up and subsequently fall down.
Salt water flushes are NOT cool. I definitely will not miss them when this cleanse is over.
In fact, I became so fed up with my new ultra close relationship with the toilet that I decided to draw a self portrait of myself doing my new compulsory favourite activity.
Mind you, I drew this WHILE I was ACTUALLY sitting on the toilet and talking to Mellowyel so it's not been inked or anything. And I haven't even finished drawing my hand because I'm bad at drawing hands and I have to practise more.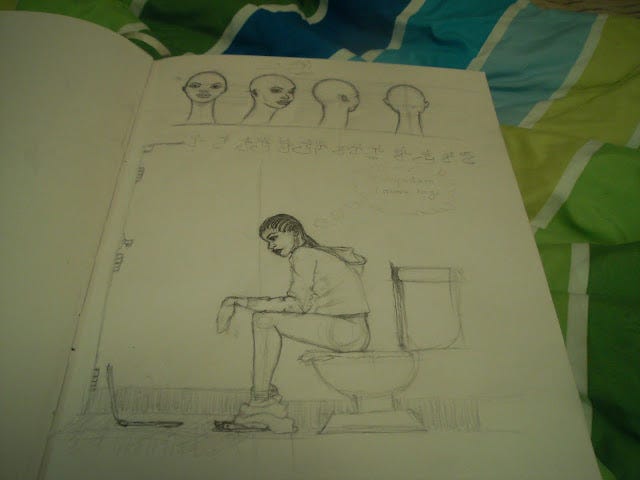 Yes, I really do take my laptop to the bathroom with me
I also take my sketchbook, my phone, my keys, my journal, a yard stick, two erasers, 5 pencils, and an ungodly number of pens
Congratulations, you have now officially seen my nyash.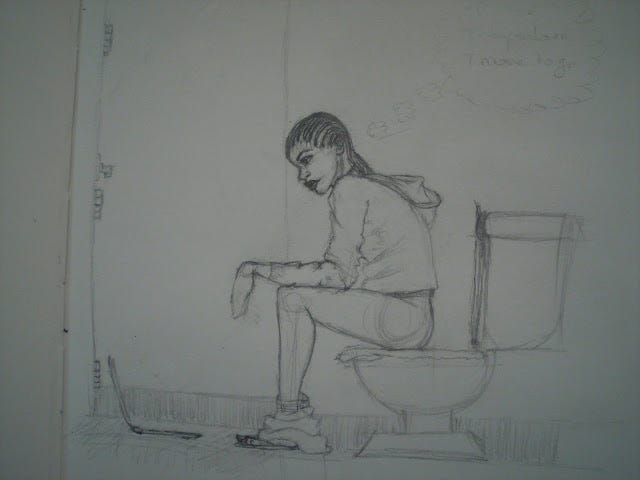 Yeah, I really was wearing a hoodie and I had my jeans around my ankles like I always do
I used to always sit on the toilet naked
But after I left the door unlocked by accident one time
I've decided it's wiser to confine my penchant for nudity to toilets to which I have exclusive access
The frilly stuff you see me sitting on is toilet paper
I am one of those girls
I toilet paper any and all unfamiliar toilet seats before sitting down
Dianyi, this is America
Only goodness knows what evil disease is waiting on the toilet seat
Bent on inflicting itself on your bottom
The fear of Herpes is the beginning of wisdom
In other completely random news:
I stopped by my school's bookstore to buy some new black pens ( I NEED to have black pens. I use only black. Blue ink is for losers and Non-Believers), and I came across something familiar that had me jumping up and down like an idiot.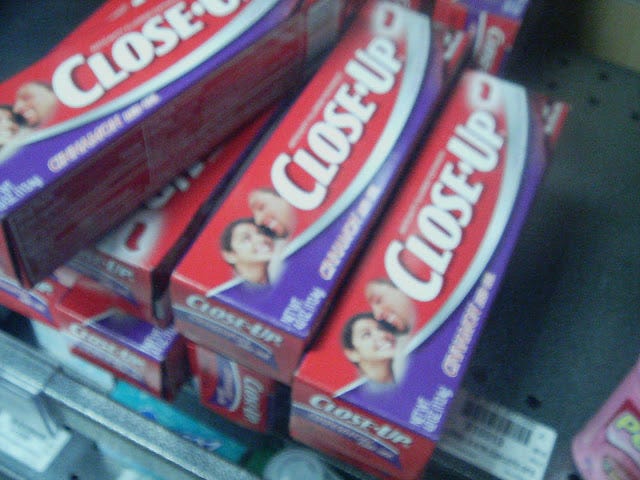 You know you've been in America too long if this has the ability to excite you