Discover more from Sugabelly
I think a lot of things
Over 2,000 subscribers
Maya Lake is An Effing Idiot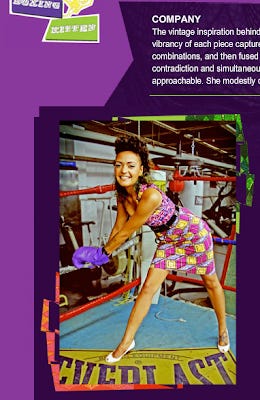 Wow, so because a fabric is ALSO produced in West Africa it's suddenly fake??? Really, Ms. Lake? Really? West African Ankara is ALSO 100% cotton, and it is ALSO produced using the same process so I do not see what is inferior or fake about it.
And if West Africa hadn't institutionalized Ankara, your parasitic little ass wouldn't be using it in your collection right now and claiming how "oh-so-innovative" you are.
I can understand not giving credit. Western designers steal design ideas from Africa everyday and very conveniently forget to give credit, but to actually put down West African textiles and label them inferior?
Dear Maya Lake, if you have never lived in West Africa or worn West African ankara for any extended period of time, and since you have been so greedy as to leech off and capitalize on a fabric that WEST AFRICANS made relevant and brought to global attention, please keep your incredibly vapid opinions about the quality of West African ankara to your bloody self. Last time I checked you were NOT an expert on Ankara. You only started making your boxing kitten nonsense AFTER the first wave of African designers that started using Ankara extensively.
Of course, because those designers are AFRICAN nobody pays them that much attention over here as they do you because you have the convenience of having been born an American. I wonder, if this same Ankara had been manufactured in America would you still have called it a 'knock-off'? Or maybe the term only applies when it is specifically manufactured by Africans? You retard.
Signed,
A West African who thinks home made Ankara is superior to your bullshit Hollandais.