Men Strike Again
So I came across the Ask Men 99 Most Desirable Women list and I was bored so I decided to see who these 99 women were.
I quickly became disenchanted.
Out of 99 women, only 8 were Black, all the rest were White. Except for MIA and Aishwarya Rai who are Indian. There were some Latinas there too but they were all Latinas of Spanish descent (i.e. the Latinas who look white not the ones who actually look South American)
Cassie, Alicia Keys, Halle Berry, Beyonce, Rihanna, Zoe Saldana, Leona Lewis, and Selita Ebanks.
Out of 8 Black women, 4 were half-caste (now I have nothing against half-castes but in this case it is relevant as I am pointing out how few typically Black women made the list)
Out of the remaining 4 women only 2 were even moderately dark-skinned. (Zoe Saldana and Selita Ebanks)
So out of the 8 Black women that made the list, 6 were light-skinned and the other two were somewhere close to the threshold of darkness/lightness. (Well Selita Ebanks is definitely darker than Zoe Saldana). Zero were completely, categorically, inescapably, and unequivocally dark.
Now, out of the 8 women again, only 2 had a wide/somewhat wide nose (Rihanna and Zoe Saldana - and maybe Leona Lewis to a tiny degree). All the rest had fairly/relatively straight/pointy noses (Halle, Beyonce, Alicia, Selita, Cassie, and Leona Lewis to a lesser degree).
Out of 8 Black women that made the list, 0 (ZERO) had natural hair.
Why am I even talking about this? (since I talk about this a lot)
It just seems to me that even with all the discussion and recent resistance to this cloying and suffocating European ideal of beauty, loads of men (at least the ones on the AskMen website) still believe that white women (and those who resemble them) are the pinnacle of desirability and that Black women are less than or definitely nowhere near as desirable as white women or women of other races.
I mean, for goodness' sake, Carla Bruni was ranked to be hotter than Alicia Keys, Leona Lewis, and Cassie!! That should tell you that something is seriously wrong. I mean, I'm not really a fan of these women (except Alicia Keys) but the title of the list is the most DESIRABLE women and I don't need a penis and balls between my legs to know that Cassie, Alicia Keys, and Leona Lewis are ten times hotter than Carla Bruni can ever hope to be.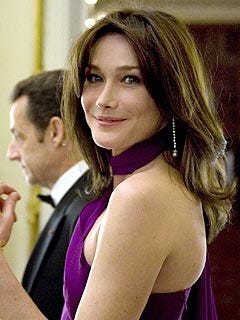 Are these people for real????
Meanwhile Beyonce (who I don't like that much either) came in at number 50. Guess who was ranked higher than Beyonce at number 47??
Carrie Underwood.
Blank. Stare.
So, let's not get all worked up about this. If it wasn't so sad, it would be hilarious. All I'm wondering is, when will it be the turn of Black women to be beautiful? (And no offense if you're light-skinned) When will it be the turn of dark-skinned, wide-nosed, thick-lipped, kinky-haired women to be beautiful?
When, if ever?