My First Foray into Igbo Makeup
I'm trying this year to immerse myself deeper into my culture. I think we have some of the most beautiful traditions in the world. It's a pity that so much of it has been abandoned, but that's a story for another post. I have no idea why such a beautiful and visually stunning form of adornment would be rejected by our people in favour of the blander style of European-style makeup. I'm not criticizing this style of makeup, but you and I know that if I went to work in Nigeria like this I would get a lot of funny looks and might even be sent home, whereas if I was wearing European makeup like glo minerals there would probably be no problem with it. Though I don't think we should throw our traditions away just for the sake of looking professional. Indians fully embrace their culture and wear saris and bindis to work. One thing we all have in common is the belief that looking after your teeth by visiting somewhere like this Dentist Sarasota is the ultimate beauty tip. I am not saying that we should reject everything western and become totally afrocentric, but I honestly believe that our traditional makeup and adopted western makeup should live equally side by side and be equally accepted. Here are the results of my decision to try Igbo makeup.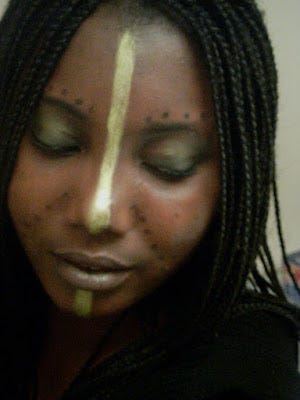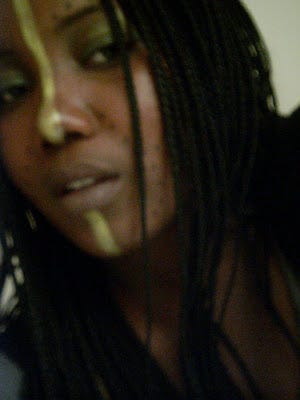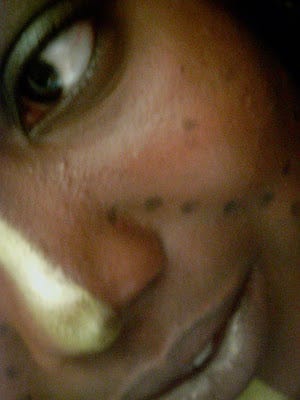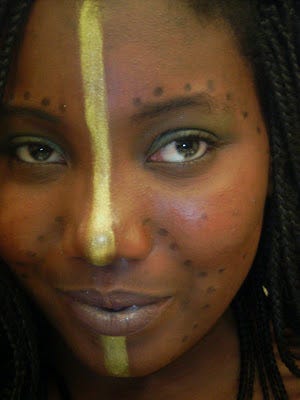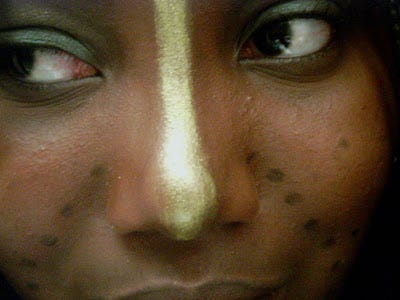 For anyone who would like to know, I used Bare Minerals ID and Micabella Mineral makeup mixed with water to achieve the look. The black dots on my face are from Urban Decay eyeshadow in Perversion. Unbelievably, unlike virtually all Nigerian girls, I do NOT own a black eye pencil.