Discover more from Sugabelly
I think a lot of things
Over 2,000 subscribers
Nigerian Companies Never Ever Learn - Obongo Mail
Remember iKobo?
Well meet ObongoMail.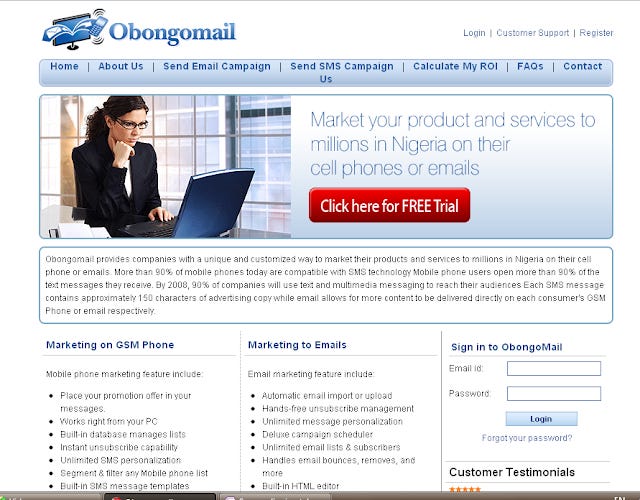 Yeah. They really never learn.
Advertising 101: Your consumers or potential consumers MUST be able to IDENTIFY with the models using the product in the ad in some key way. This will then enable them to envision themselves IN PLACE of the model using the product.
How many Nigerians do you know that look like this?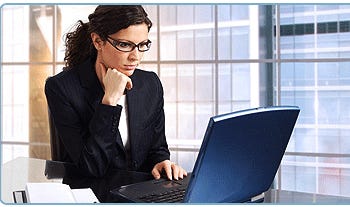 I am so sick of Nigerian companies that feel the need to market their products and services using White people. Newsflash!!! Nigeria is 99.9% black. Unless perhaps they are really targeting the five white people in Nigeria. If that is the case I apologize for calling them out, but as long as what they wrote there is market to MILLIONS in Nigeria, then it is only logical to assume that they are talking about Nigerians since the only group of people that number up to even one million in Nigeria are actual Nigerians.
So excuse me while I feel the intense desire to capture the owner of Obongo mail and bongo his or her head. 
Goodness, it is not hard. This is the FIRST thing they teach you in business school. It is freaking common sense. This is like trying to market horseshoes to a horse using a crocodile as your demonstration model. I am sick of all these STUPID Nigerian companies that are so in love with Caucasians and think that they are so much better than Nigerians that they feel the need to appeal as much as possible to Caucasian sensibilities when the net worth of all the Caucasians in Nigeria combined can't even make any kind of significant dent in Nigeria's GNI.
There is nothing inherently wrong with Caucasians but there IS something wrong with stupid Nigerians and the companies they own not valuing their fellow Nigerians enough to even have the decency to market us a good or service using models that actually look like us. 
How can you expect me to use ObongoMail which you claim is for Nigerians when you don't even have the common courtesy to employ a Nigerian model so that I can actually envision myself using your service? Like seriously, who the hell do these companies think they're marketing their stuff to?
Call it whatever you want, if you are a Nigerian company or if you are a company targeting Nigerians and you cannot respect Nigerians enough to use Nigerian (or at the very least Black) models in your marketing campaigns targeting Nigerians then I don't care if you have the best widget in the world that you are selling, if you are a Nigerian company and you cannot be proudly Nigerian then you will not see a kobo of my money. Nigerians are just as good as caucasians, and if you can employ a caucasian model to market in America or Europe then you sure as hell can employ a Nigerian model to market to Nigerians. Otherwise you can keep your bloody service and Nigerians will pay someone who respects us.
Nonsense and Ingredient