Discover more from Sugabelly
I think a lot of things
Over 2,000 subscribers
Pictures and Research
So Zara left me a scathing comment and asked me to show research that supported my arguments about the ongoing mistreatment of dark-skinned Black women at the hands of certain Black men. Here are some clippings of things that people are saying about Black girls around the Internet. There's a lot of stuff but I chose these in particular because they hit close to home. They are from Nairaland, which is probably the biggest and most active Nigerian forum out there.
Of course if you want more proof you can go look in the thousands of forums, blogs, articles, reports, studies etc. that exist about this phenomenon, but this is just a blog, and my blog at that, and I'm not about to flood it with endless media for the sake of winning an argument.
Anyway, read for yourselves what your fellow Nigerians think. I know it's not all of them, and I also know that this is more widespread here in America, but the TRUTH remains that this mentality is highly pervasive and is becoming FIRMLY rooted in the Nigerian psyche to the eventual detriment of the majority of us.
You might say the Internet is not a "credible" source, but I beg to differ. The Internet is NOT a credible source when one is writing a term paper. However, the Internet is THE MOST CREDIBLE source is existence when one needs to find out what people REALLY think. There is nowhere that people express their TRUE feelings and opinions in greater numbers on Earth than on the Internet because it gives them the one thing that they would NEVER be able to get anywhere else: TRUE ANONYMITY. People would have continued to read only the newspapers for news and other information if it had not been a reliable source of information. If that would have been the case, the Internet would not have become so popular that people are now looking for internet service providers who can offer the best tv internet bundles rather than just looking at television sets to see the headlines.
If you can't be found out and you can't be caught and you can't be judged by others, then you say all that is in your mind and in your heart without reservation. Trust me, not every fact you read on the Internet is true, but I assure you: EVERY opinion you read on the Internet is the Gospel Truth.
This, after all is the First Lady of CAMEROON: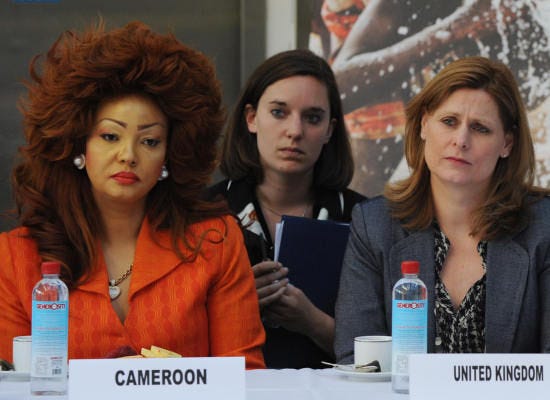 Chantal Biya, First Lady of Cameroon
Videos you should watch:
http://www.youtube.com/watch?v=6pwYDMMG7Ho&feature=related
http://www.youtube.com/watch?v=1OpbU0DSpQs&feature=related
http://www.youtube.com/watch?v=4cS79_32f9I&feature=related
http://www.youtube.com/watch?v=MClk4yYYeJM&NR=1