Discover more from Sugabelly
I think a lot of things
Over 2,000 subscribers
Random Thoughts
I've had a mixed week. On one hand I'm still stuck in my old dorm but at least I've finished packing. On the other hand, my phone is dead and it doesn't look like it might be coming back to life. I went to a party on Friday night (my second ever party since I started school in America with the exception of birthday dinners and outings) and it was really strange because everyone just sat around and drank beer. No one danced and they just blasted terrible techno music all night long.
In Abuja I was very into partying and going out and dancing, and I sort of expected that a party is the same anywhere in the world so I guess I deserved my shock. There was no dancing, just standing or sitting and clutching bad beer and smoking and making drunken conversation. I didn't drink anything because I'm taking antibiotics for my wisdom teeth that are coming out thanks to this Dentist Modesto office that are helping me through my painful journey.
Sha sha, I wasn't enjoying the party. It was okay, and I had a couple of interesting conversations but that was it... until H.L. showed up. Okay, I'll admit, my excitement level went through the roof when I saw him and he came over and said hi and we chatted for a bit before he went off to play Beer Pong (horrible game). I was upset because he left without saying goodbye to me but he hugged the Japanese Girl that was sitting next to me. =(
Yesterday, I went to Hung Lo's room and we hung out. (no pun intended). He's promised me a Street Fighter tournament so I'm looking forward to that. I also ran into him again (no I am not stalking him I swear)
********
I did a post about my father yesterday. There isn't a "situation" (or at least it happened years ago). I just realised I've never really articulated my feelings about my father before. I almost never talk about him. In fact, if my conversations are anything to go by, an alien would probably think I didn't have one. Which is just as well. I don't have one. I divorced him in my mind and heart a long time ago. Sorry if you were alarmed.
***********
I did another drawing! And it's even worse than the last one!!
Oh well, I did it at work when I wasn't supposed to be drawing.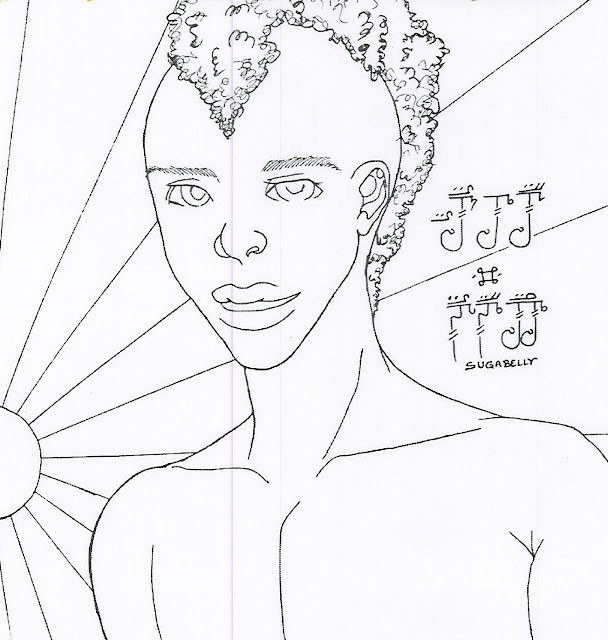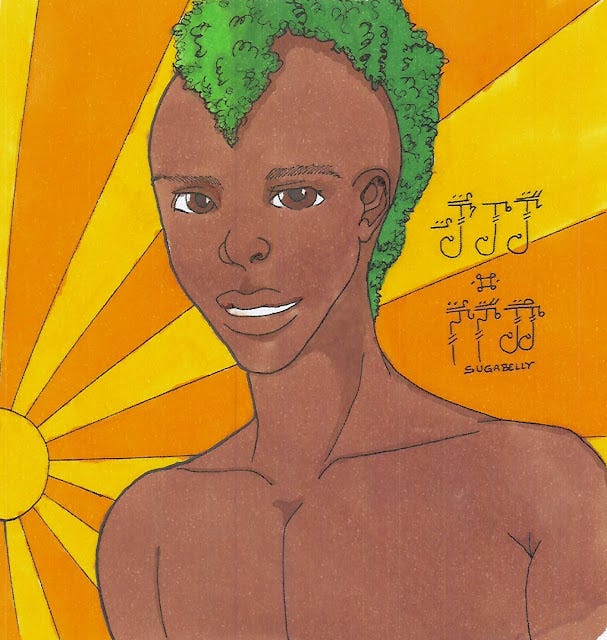 Oh, and I have some news!!
I'm finally DEVIANT!!! - http://sugabelly.deviantart.com
I've only put up the last two drawings but over the next couple of days I'll put up all the rest and hopefully draw more. Although, I must say, my drawings seem to be getting crappier and crappier. =(
Oh, and H.L. wears a size 10 and plays WoW and Warhammer. Plus.... he draws!!!!! =D (According to Nosa, it's a match made in heaven - I'm not so sure how I feel about dating a guy with smaller feet than me)