Discover more from Sugabelly
I think a lot of things
Over 2,000 subscribers
Resolution and Nigerian Fiction
Haiiiiiiiiiiiiiiiiiii!!!!!!!!!!!!!!!
I am feeling SO much better. Thank you so much everyone that emailed me to cheer me up and thank you to everyone that gave encouragement on the last post. I spoke to my professor and I explained everything to him and he understood. I still failed the exam, but it's okay. There is still a chance to turn my grades around and I've decided that even though I worked very hard in this class, I can still work harder.
It doesn't mean that I don't feel bad about having failed the exam, because I still do and after the test I went to the library, lay down on the floor behind a stack of books and had a good cry, but I'll just let my unhappiness over it serve as a reminder to me not to slack for any reason. Besides, there were lots of silver linings this week. I might have failed my Calculus exam but I got a 98 on my Management exam and I did pretty well on my international marketing exam, so I guess I have that to be thankful for.
And as for feeling like a failure... well it's the truth. I do feel like a failure sometimes. I wonder sometimes if taking the traditional path would not be easier and less taxing on my sanity. I realise this is not a good mindset to operate under and I'm doing my best to fix it. I suppose this is part of growing up and finding yourself and who you really are and who you're supposed to be and how you fit into the world. I accept that I have the tendency to be very pessimistic and cast dark clouds of gloom and doom over everything (hey, even my blog template suits my personality perfectly) but I'm trying to pull myself out of that and let a little more sunshine into my life. So again, thanks, because you reminded me of all the reasons I have to be happy and that meant a lot to me.
Either way, I can't be unhappy any longer because I'm going out to dinner with some friends tomorrow night, and best of all, MY COPICS ARE ARRIVING ON MONDAY!!!!!!!!!!!!!!!!!!!!!!!!!!!!!!!!!!!!!
I don't know what I'm wearing to dinner tomorrow. I don't have anything to wear!!! And Mellowyel doesn't live nearby so I can't steal anything from her. =(
In other news, I'm almost done setting up the Nigerian Fiction website!! =D I still have to get the home page done, but I've practically finished everything else and  I really like it. The current look of the site is going to change over time as we settle into things and I get more ideas, but in the mean time, start pulling out and compiling all your old stories because Nigerian Fiction is going live at the beginning of summer!!!
As a refresher let me reiterate what Nigerian Fiction is about.
Nigerian Fiction is an online fiction writing and reading community for stories that are either set in Nigeria or that have Nigerian protagonists (main characters). The aim of Nigerian fiction is to bring together in one place Nigerian writers and stories of every kind, length, genre, and persuasion, and to give readers and lovers of Nigerian characters and fiction a place to indulge in the pleasure of great literature.
I hope that people will allow themselves to be as free as possible with their creativity because while Nigeria has produced some great writers, there is no doubt that the general scope of Nigerian writing out there is very, very, narrow. I hope that soon after its launch Nigerian Fiction will be thrumming with inspired writers churning out Nigerian literature of every possible genre, and perhaps even generate a few new genres and maybe a couple of online literary stars.
Anyone will be able to read the stories (but stories rated T, M, and MA will be viewable only to logged in members of the appropriate age) but only members will be able to review (comment on) stories. Also, any member will be able to write and upload stories as well as have favourite authors and stories and receive email updates when their favourite stories are updated.
Finally there will be quarterly awards (four times a year) to celebrate great writers on the site. Contenders for the awards will be nominated by members and winners will be announced onsite and have their stories featured as well as receive an award banner to display on their profile. (You also automatically get a challenge banner for participating in any of the writing challenges whether you win or not - People like to collect banners)
I'm excited!! I hope everyone is as excited as I am. All you writers, whether budding, aspiring, terrible, or professional, get ready!!!! It's time for us to tell Nigeria's stories.
Oh, btw. I'm trying to come up with a good slogan for the site. The Ndebe Project's slogan is pretty cool don't you think? "Igbo Rocks! Go Forth and Speak It!"
If anyone has any ideas I'm all ears. Something short, sweet, cool, and perhaps Nigerian.
So again, thank you all!!!!!!!! You glued my wings back on! And here's a picture of me smiling to prove it.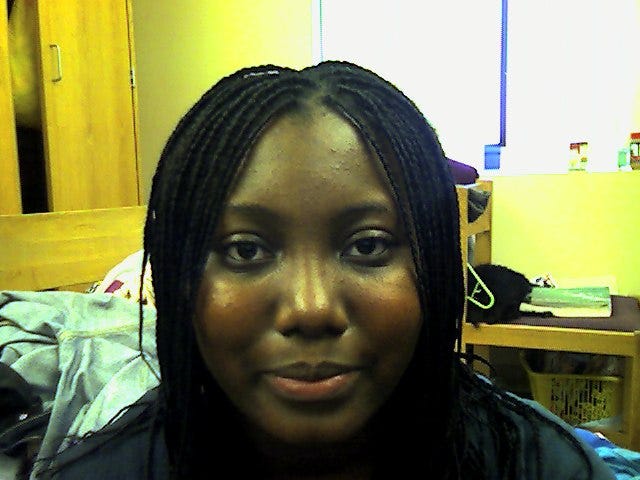 Look not at the untidy room behind me but focus on my joyous face