Scripts, Glyphs, and Everything Else
Since school closed it's been a race to catch up on my work on the Ndebe Project, and while I'm still deciding what to do with punctuation as far as Igbo is concerned, I've made some progress with the ability to write my script swiftly and legibly.
It turns out that my initial theory about the number of strokes in a letter was correct. (I theorized that the fewer the strokes in a letter, the easier and faster the letter is to write, leading to faster words and in general faster writing).
I've been writing in Igbo almost everyday since then and my memorized knowledge of the Ndebe alphabet and my ability to write it rapidly without referring back to the original alphabet chart has increased greatly with practice.
Here's a shot of my notebook. On the left are English sentences translated into Igbo then Ndebe script (on the right).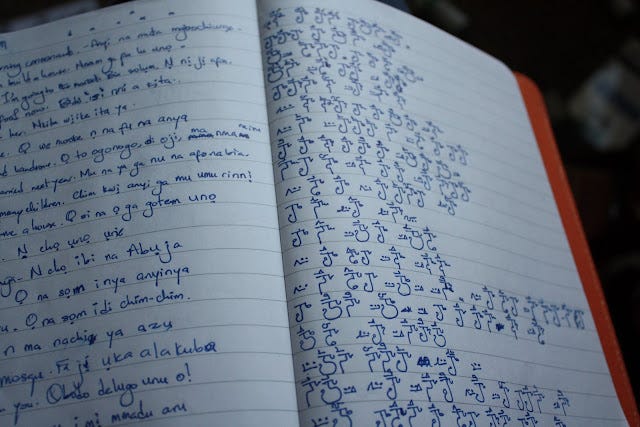 As you can see, it's pretty easy to fit it into the normal writing space of a regular notebook, and it's surprisingly easy to read. I can now read most Igbo senteces in the Ndebe script without referring to the alphabetic chart! :D
I left Facebook briefly because I needed to clear my head, but I'm back now. According to Facebook it will take a few hours for my Admin status to be reinstated in my groups so when that is done I'll put up my updates. I don't know if anyone is a member of The Igbo Academy on Facebook but if you are I'd love to know what you think and if you've tried any writing recently.
EXCITING NEWS:
I found an Igbo dictionary that was published in 1913!!! Why is this great? It contains A LOT of Igbo words for things that people simply use English words for now. This is important because ensuring purity of language is key to TRUE growth (of the language I mean - rather than simply borrow English words for new things, we should form our OWN words that conform to Igbo grammatical rules). So, what did I discover upon discovery of this precious vault of information?
New Words and expressions (well Old words really but hey, how many times do you hear this in Igbo speech nowadays?)
Abandon - (A)bwanari

According to - Dika [Name here], e.g. Dika Sugabelly = According to Sugabelly

Absorb - (A)mila or (A)fula.

Albino - Anyali

Adam's Apple - Udene Akpili or Akbo Akpili

Antimony ( used as eyeliner or mascara) - (O)tanjele

Armpit - Avu or Avo

Item of Clothing - Akolo ( I think this might refer to the different components that make up any full outfit or dress)

Bead - Aka

Beam (part of house) - Ufia

Beggar - Ayiyo

Beginning - Nkwadebe

Bend down - nyadata or nyado

Betrayal - Nkete

Bottle - Onono or Kalamam

Bracelet - Ebwaka, Njiaka (there are at least TEN synonyms for Bracelet so can't write all)

Breakfast (to eat...) - (A)Bwa azi (I'm guessing this is a verb)

Bud (as in Flower bud) - Imifulu
Omg there is so much more that I would love to post here but it would make this too long.
Unfortunately this dictionary was written by a white man in 1911 (and published in 1913) and although he states that he did his research in Awka and Onitsha, I'm guessing that his ethnicity is the reason why there are no reliable tone indicators in his dictionaryand his spelling is iffy even though I have to say that he made a really great effort!
I'm sooo excited, I'm going to call my Grandma and ask her for the proper pronunciation of these words!
BREAKING NEWS: OMG according to this document, Enyi (with stress on the I ) or Nuno (NOO-NOH) means Sexual Friend (as in Lover, or friend with benefits. LMAO!)
The more common Oyi means Friend and covers ALL types of friends, sexual or otherwise.
To kiss - (I)susu Onu (I'm guessing only Isusu is conjugated)
And finally (Drums Roll Please!!!)
Agama - Clitoris
Totally cool. I had no idea...
Also, Does anybody know the Igbo word for SEX? Ask your Grandparents!!! I need to know!!
I am also looking for the Igbo word(s) for Vagina. I have found THREE different words for Penis in this dictionary but NONE for vagina. Either the writer or the Igbo people that he spoke to in particular were obviously sexist >:(
I'm looking at a different historical document and it contains this proverb which says:
Nwa-agbogho Ugwuta si nne ya na otu nwoke ka ya na-agara onwe ya, o
wee tuburu ya raa. Nne ya wee si ya gaa rakwuru. O gaa, a rachie ya ozo.
Translation: (An Ugwuta (Oguta) girl told her mother that as she was going on her way, a man came and thew her down and sexed (raped) her. Her mother told her
to go and retaliate. She went, and was sexed (raped) again.
Also:
Anaghi atu ikpu ukwu egwu maka na o bughi ya gaara ownwe ya.
Translation: One cannot be afraid of the wide vagina because it cannot sex itself
Also:
Nwanyi buru ohu, o si raba ya, na ohu bu ohu ya, ma mgbe o puta okwu, a
choba onye nwe ohu.
Translation: A woman carrying a vagina is asking to be sexed, that the vagina is her own, but when it causes trouble, the (real) owner (of the vagina) will be looked for
Also:
Nwanyi obi oma ragburu onwe ya na di.
Translation: The kind-hearted woman sexed herself to death
(No Igbo Original found but this is a certified Igbo proverb - need a translation):
The penis comes erect as if to kill but the vagina swallows and tames it.
My rough estimation from these proverbs (not my dialect - looks like Central Igbo which I always found tricky) is that the following words might mean Vagina: - Ikpu and Ohu (possibly even Oru)
The following words might mean to rape: - Tuburu or Rachie
The following word might mean to (have) sex (verb): - (I)ra or possibly (I)raba
[in the last proverb I think Ragburu is a construction of Raba (to have sex) and (I)gbu ( to kill) forming Iragburu (or Iragbulu - to sex to death). A very similar construction is (I)tagbu - to bite to death this is far more common and still used in every day speech.]
I am totally confused. Are there any Central Igbo speakers out there? Or anyone with Igbo-speaking parents or Grandparents nearby???
I need to know. Thanks !