Discover more from Sugabelly
I think a lot of things
Over 2,000 subscribers
Sketches
I know I know! I promised and this is so late, so please forgive me.
Here is my sketch for Bilili. It's a preliminary sketch and it's not even near complete, but I think this one shows a lot of detail for her hair. (and yes that is ALL her hair).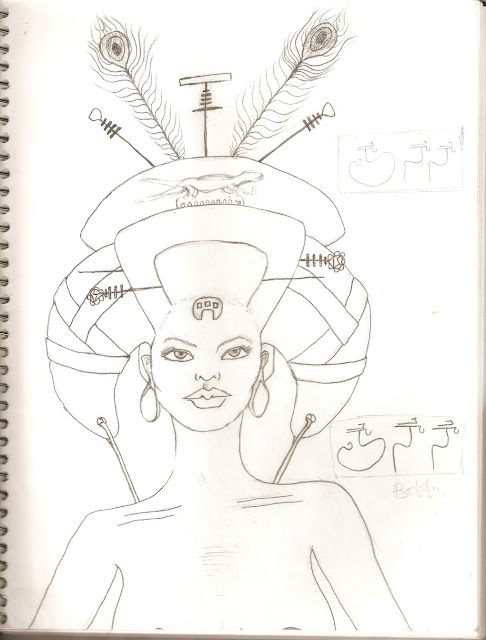 This is the initial sketch of Bilili. (Medium: Pencil)
I didn't want to show her breasts so I sketched down to the bottom of my sketchbook
Ears: Bilili has tunnel piercings. Igbo women do not normally have tunnel piercings (they have regular piercings) but Bilili is a larger than life character because of her job.
Everything about her has to draw attention and be exaggerated so where a regular woman would have a simple piercing, Bilili has tunnels.
Also, tunnel piercings ARE common among regular women among our direct neighbours on the Eastern side, the Bamum women in Cameroon, so it would classify as a foreign fashion borrowed from a neighbouring country.
The lizard like thing in her hair is supposed to be a Lizard Comb
You know those combs that we all have that come in loads of diff styles depending on whether it's from Naij or Senegal or Ghana.
Like so: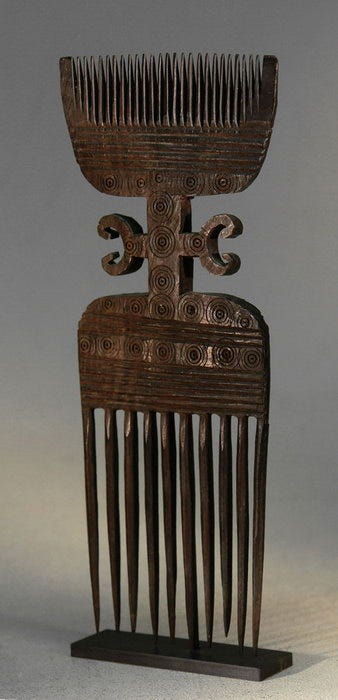 The horns of her hair are wrapped in wide strips of ankara/random fabric
There is a ring in either horn of her hair attached to a fabric cord attached to gold weights that go down her back to weigh her hair down just enough so that it stays in place even on windy days.
The things sticking out of her hair are hair pins.
The other things are Peacock feathers.
Yes Bilili likes drama.
The thing on her forehead is a traditional gold forehead ornament.
I just made her's smaller.
Like so: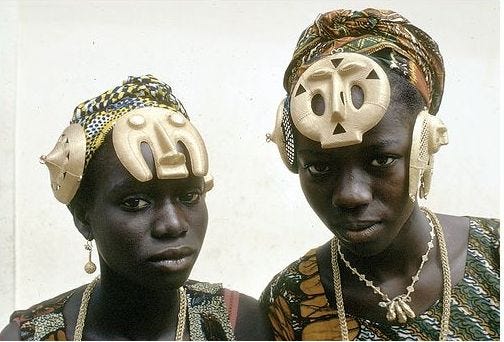 Yay cultural and historical references!!
(Okay I know I stole this particular one from Baule women but they're CUTE!!)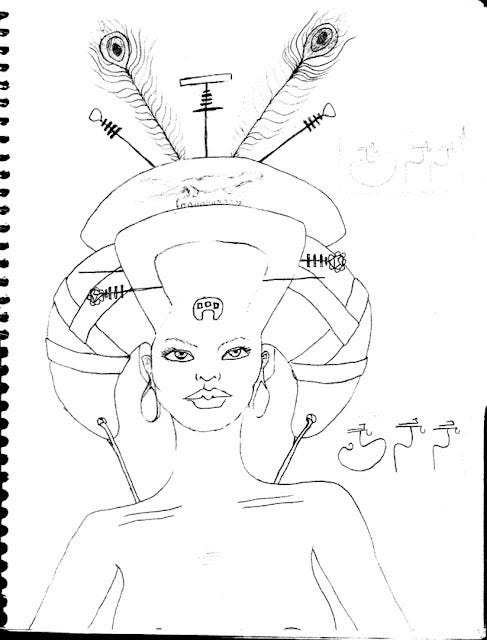 This is a darkened version of my drawing.
I just wanted you to get a feel of what it would look like in an actual comic book (i.e. I'm trying to decide whether to make this a graphic novel because there's just so much more visual historic detail I can put into it as opposed to just writing)
The Ndebe script next to her reads "Bilili"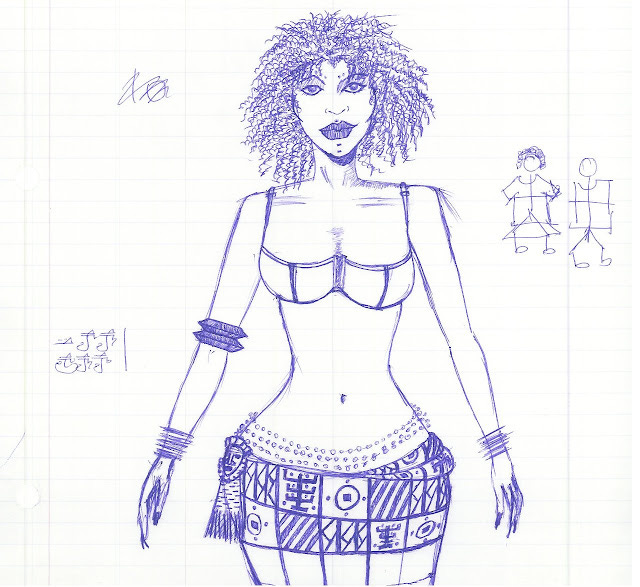 Medium: My friend's blue biro. (All my pens are BLACK)
This is a random drawing I did this evening on a friend's notebook.
It's supposed to be the kind of thing a teenaged girl might wear in the time period.
I drew her hair loose because I was too lazy to draw a proper Igbo hairstyle
I know her hands look hideous.
I'm very lazy with hands.
I must practice drawing hands.
I also didn't finish the design on her nabi out of laziness.
Nabi means wrapper.
Ignore the bra - I didn't want my friend to complain that I was drawing porn again.
Ignore the stick figures also - my friend drew them.