Discover more from Sugabelly
I think a lot of things
Over 2,000 subscribers
Thanksgiving Break and Movie Madness
Happy Monday everyone!!!
I've gone white! I hope you like it because this blog's new look is here to stay. I think that the transition from mostly black and other dark colours to white is fitting as my blog was originally my outlet for all the dark emotions I had trouble dealing with. It's still my outlet but I'm working on other ways to process my feelings so that I can have more positive social interactions instead of scaring and alienating people. I'm trying to be more upbeat and work through my struggles with depression, and though I'm having a little difficulty adjusting to all the blinding white, I must admit, I like it, I do.
Thanksgiving break just officially ended, and as I always do with every big holiday, I made a long list of things I was going to accomplish over the break since I wasn't going anywhere, and managed to complete a total of zero items on my to-do list. One day I will overcome procrastination.....tomorrow.
The poll to name the Yoruba Girl drawing is over and drum roll please..... Our Yoruba Girl's new name is...
Anike
Thanks to everyone who voted, sorry if the name you were rooting for didn't win (I wanted Ireti but I got outvoted.)
I am so sad because IT SNOWED YESTERDAY!!!!! I hate the snow. I cannot express with words how much I detest snow. Yes, it's pretty, and it sparkles, and it flutters so delicately through the air but it's also wet, and cold, and makes a horrible mess when it mixes with mud. I guess winter, the nemesis of all Nigerians is officially here. My winter survival plan involves staying inside and hugging the heater, but I bought snow boots just in case.
Speaking of which, I didn't buy anything this Black Friday. Probably because I'm broke. I have no money management skills so thank you my dear parents, because money management is genetic (or at least that's the story I'm sticking with so I can blame my perpetual lack of funds on someone other than myself). My friend gets so wound up that I never have any money to do anything and she keeps sending me links to www.teachmepersonalfinance.com. She says I need help. I'm not that bad... am I? There are just so many bills to pay when you get older, it's hard to pay them and still have some money left for retail therapy! When I told my friend that, she told me to try and negotiate some of my bills down. Apparently, you can compare energy deals online, ensuring that you find the most affordable deal. Switching suppliers is always an option, but people can also look into energy saving systems too (click here). Hopefully, by sorting my household bills out, I should be able to save some money.
I'm saving up for next Black Friday starting now, but steeply-discounted holiday or not, if there are two things I must buy in the coming year by hook or by crook it's these two: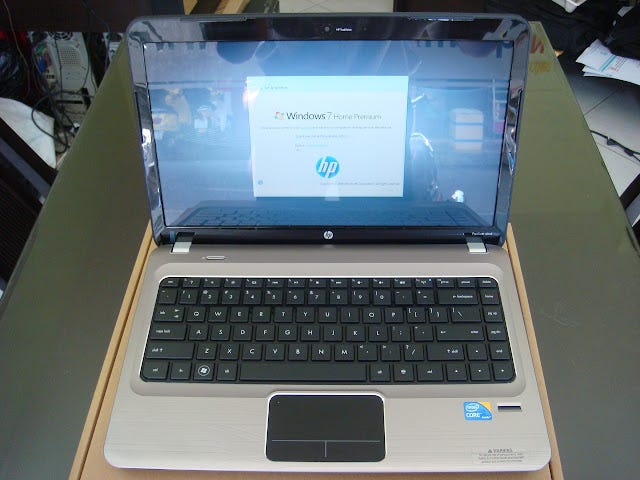 A totally tricked out HP dm4t (because my current HP pavilion is literally falling apart. Like bits and pieces randomly break off and things rattle)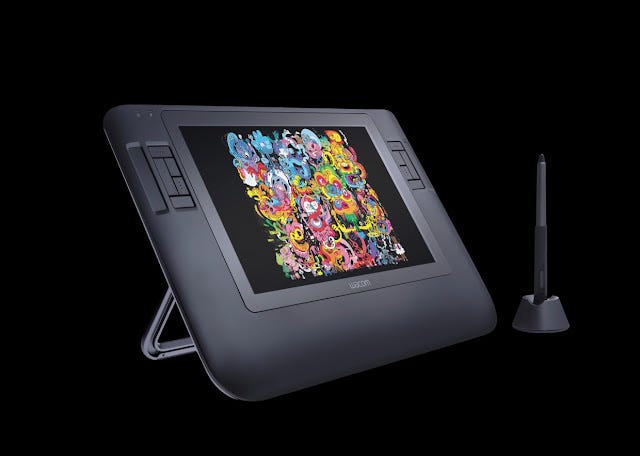 A Wacom Cintiq 12wx ( I desperately need this for drawing - pity it costs more than a school bus full of children)
I've been meaning to ask - Did anyone go see Harry Potter and the Deathly Hallows? How was it? I wanted to go but I couldn't find anyone to go with me (also it was too cold and I was broke...again). I haven't been to see a movie in ages, but I have been watching the new AMC series about zombies called The Walking Dead. At first I was really really apprehensive about watching it because one thing I do NOT do is scary stuff. Any kind of horror or thriller will have me scared for months complete with terrible nightmares so I just respect myself and stay away from anything remotely scary but my Art professor was raving about it in class and she made it sound so interesting that I decided to give it a try. I love it when people tell me to watch new shows. What are some of your favourite shows at the moment? I adore finding new shows to stream. That being said, I might have to invest in a new streaming device soon. I read a useful guide to some of the latest makes and models on the Coolest Gadgets website so I need to get saving up. Hopefully, all of the streaming sites I want to use will be available in my country. If they're not, I'm sure I could always find a proxy to help me out. My friend told me about proxies not too long ago. They help people to hide their location when they're browsing, allowing them to access different websites. Perhaps some people should consider visiting www.free-proxy-list.net to start using one. Hopefully, this will help more people to access more streaming sites.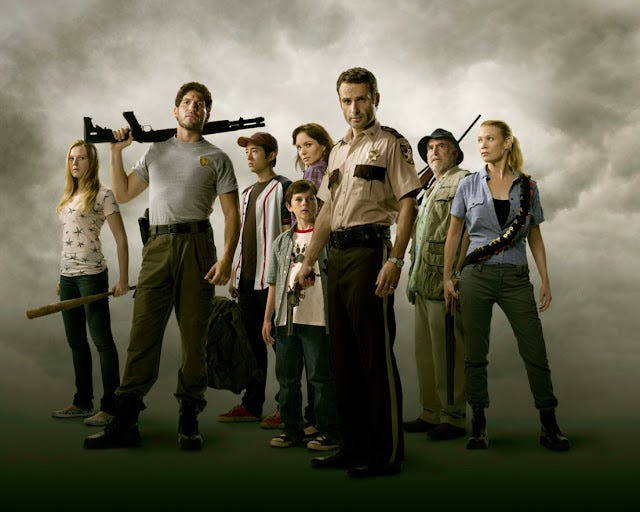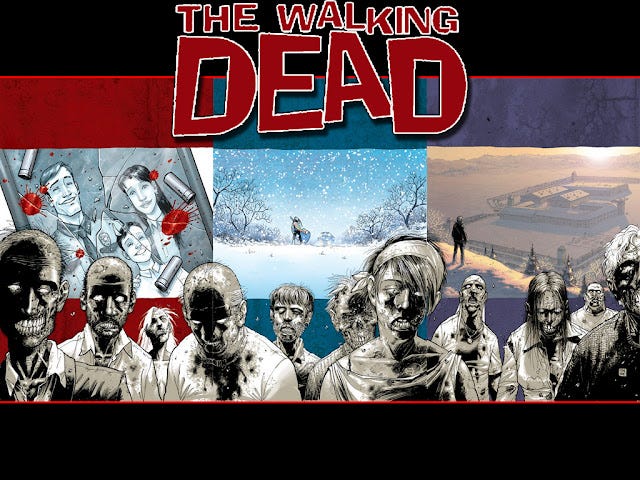 Turns out, it was based on a graphic novel (it gets major points for this), and it's really amazing. I'm completely hooked to the show although it's really really scary and I find myself checking the bathroom suspiciously before I go in, but I'm looking forward to watching the next episode so bad! Plus, I am so glad I watched this show because I discovered the gorgeousness that is Steve Yeun!!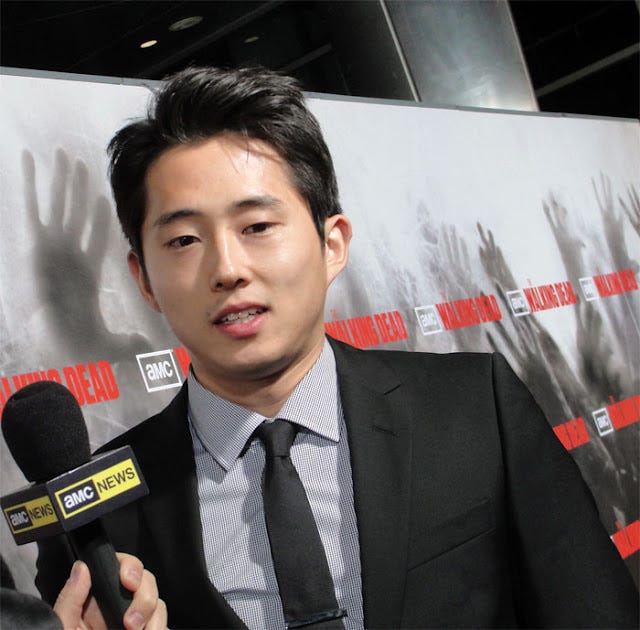 He's Korean and he plays a pizza delivery-boy named Glen that knows how to outsmart the zombies and all through I found myself biting my nails and whispering "Please don't let Glen die! Please don't let Glen die!" over and over again. Then I entered full stalker mode and followed him on Twitter. (No, I am not ashamed. I am a PROUD stalker of Steve Yeun).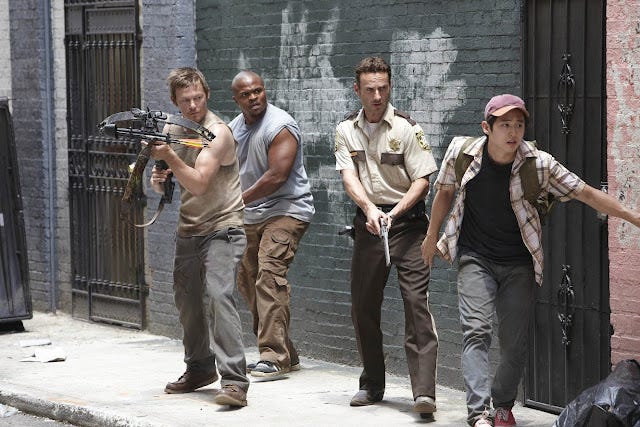 Yes, that is indeed a crossbow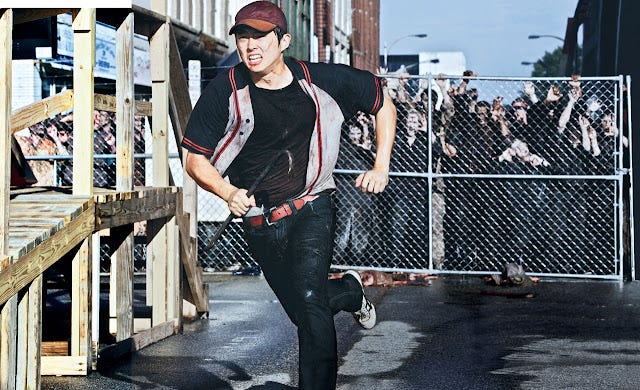 Glen
By the way, Yeun is not the only hot Korean man I'm stalking these days. I'm getting ready to watch Ninja Assassin which stars Rain (a sexy Korean singer). From the trailer it looks like it'll be a great action film (I love action films, especially Asian ones) so I can't wait.
Rain's acting seems solid and I heard there's a black female lead in this too, but I'm very disappointed in Rain for promoting bleaching creams so maybe I shouldn't support him by watching his movie after all?