Discover more from Sugabelly
I think a lot of things
Over 2,000 subscribers
The Philanthropist: Update on NBC
I checked the NBC forum on The Philanthropist this morning to see if my question had been answered by their so-called expert on Nigeria, and lo and behold, they had REMOVED MY POST.
Obviously the forum moderators at NBC just cannot deal with the fact that someone actually called them out on their show's bullshit representation of Nigeria and they are trying to BURY not only my post, but the posts of other Nigerians that have complained against the rubbish and tomfoolery they presented to the world under the title Nigeria.
I have sent the forum moderator a message asking why my post was taken down. He had the audacity to claim that my post was not relevant to the expert's area of expertise. I am sorry but my question was ALL about Nigeria, and they claim their expert is an expert on Nigeria so forgive me if I fail to see how the two are not connected.
All I can say is shame on NBC for that horrendous travesty that they call the pilot of The Philanthropist, and shame on the NBC forum administrator for censoring relevant questions like mine that should hold the producers of The Philanthropist accountable for the bullshit that they tell the world is my country.
Their lame half-assed excuses are not deceiving anyone. They just don't want any negative attention drawn to their show and they are not ready to talk about the fact that they were extremely lazy in their research about Nigeria and they underestimated their viewers and they messed up BIG TIME.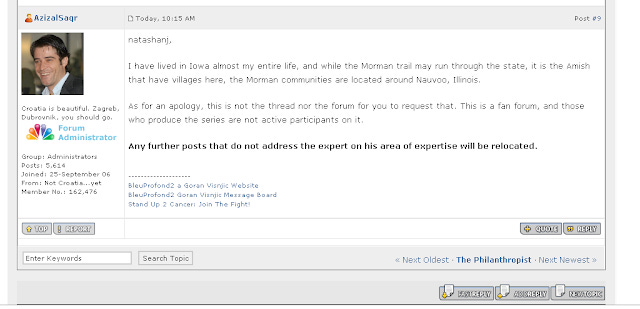 The forum moderator claims my post was not relevant
My message to the moderator requesting my post be put back
A message from another Nigerian member of the forum
The posts of other Nigerians that speak out against the portrayal of Nigeria in the show are being deleted too.
What I have realised from this is that the West will never care. As long as they get their entertainment fix, that's what's important. The NBC forum is awash with people praising the show. I'm not even sure what there is to praise about the show. Lots and lots of commentors are asking what is the big deal with the Nigerian episode inaccuracies, that it's just a show, and that television is hardly ever realistic.
First of all, I know that television is hardly ever fully realistic but there really is a difference between showing a young twenty something year old woman who is miraculously able to afford an apartment in Manhattan bigger than the size of a shoebox and reducing an entire CITY to three muddy huts in a fucking jungle. There is a BIG fucking difference. (and by the way, we eventually found out how Carrie was able to afford her apartment - it was rent controlled and she only had to pay $700 a month).
Second, The Philanthropist's portrayal of Nigeria is a big deal because Nigeria is an independent country that has citizens spread throughout the world - including America. Unfortunately many people get a large part of their extra-curricular education from television so this show might be the only education on Nigeria that an American ever gets (God knows Americans are not exactly known for their drive to learn about other cultures). And because lots of people will draw their immediate impressions of Nigeria from this show, this show will also be responsible (in part) for the way lots of people might act when they come into contact with Nigerians.
It is bad enough that there are overinflated rumours about Nigeria's badness swirling everywhere, but for NBC to compound the situation with this horrorshow is just too much. Because of this show, just that many more people will carry around a completely false image of Nigeria in their heads and by association extend it to their impressions and judgement of the Nigerians they encounter.
For the forum administrator to remove my post (which I copied and pasted here for you to see) shows that they are afraid to address the issue because it shows them up for what they really are: lazy and imperialist in their thinking. Yes, it is stupid imperialism to think that one random American billionaire can jump into a sovereign nation and run the gamut and do all sorts of crap and roam around without getting into the least bit of trouble. It is even stupider thinking to assume that people should be unsurprised at the exchanging of the most important African country and the 9th most populous country in the world for a handful of brown huts and greenery.
Or maybe they want a pat on the back for 'deigning' to show Nigeria - their warped dream of a Nigeria they know NOTHING about and have never been to (they shot the show in SA)
Oya, no problem. NBC una do well.
I laugh fucking kpehe-kpehe.