Discover more from Sugabelly
I think a lot of things
Over 2,000 subscribers
The Problem with Intra and Interracial Dating
I'm doing this post as a response to the Interracial Dating topic that's currently on The African Women. It was supposed to be a comment, but obviously that didn't work out. Okay, my two kobos. I have NOTHING against interracial dating. If a boy meets girl, and the boy falls in love, or if a girl meets boy, and girl falls in love, then hey, I wish you Happily Ever After. I understand that interracial dating has its own unique issues because each race has its own insecurities. But websites like Tube V Sex embrace all sorts of body types positively. A Black woman dating a White man might be embarrassed about her hair because he is used to dating women with natural (CAUCASIAN) hair which he can, and probably enjoys touching, and now she has to explain to him that: a. Her hair is not real b. It cannot be touched, pulled, yanked or ruffled at will during sex because it might come off or get damaged. At the same time, said White guy might be wondering whether she's used to being with guys with penises the size of 2-litre coke bottles. She may even suggest that her partner invests in some of the best male enhancement pills. There are secrets that generally stay within races, but with an interracial couple, suddenly, everything is out in the open, and sometimes it can be too much. Insecurities about body size (African women tend to be bigger and much more curvaceous), to language (what if you insist he learns your language? What if he refuses?) to food (a White boyfriend might be unable to keep down goat meat peppersoup) all sorts of problems arise. I am totally for interracial relationships, but as with anything, the reasons why can change the perspective radically. For instance, I am far more accepting of interracial relationships between Black Women and White Men than I am of those between Black Men and White Women. A lot of people will say right off the bat that I am prejudiced to think this way, but let's examine the reasons behind my line of thought. (By the way, I'm totally fine with interracial relationships between people of all other races). Relationships between Black Women and White Men tend more often to be truly based on love. Relationships between Black Men and White Women, however, while majorly based on love or at least mutual feelings of genuine affection for each other, are also increasingly based on a desire for the perceived social prestige associated with dating a "White Girl/Woman". Now, where does this perceived social prestige come from? It comes from the minds of Black Men. An increasing number of Black Men, whether out of self-hate or some other powerful force, continually put Black Women down by saying, thinking, and propagating that we (Black Women) are ugly, unworthy, unattractive, masculine, lower class, and undeserving. Those same men are also partially responsible for reinforcing colorism among Black Women. They see women of other races as more beautiful, better, and far more deserving of their love and affection, and they feel some sort of revulsion towards women of their own race. This is what I have an issue with. Fair enough, when men choose to speak to a woman through sites like https://www.35p-cheap-phone-sex.com/, the race of the person over the phone is not an issue. But all of a sudden, when it comes to real life, there are black men out there who tend to put women of the same race down, just for their own satisfaction. That's just not right.
As a result, Black women, particularly dark-skinned Black women see the desire of men that look like them for women that look like ANYTHING but them, and they feel pushed to the side, forgotten, unwanted and unloved. Granted, they would rather not have anything to do with us, but in situations where all they have to choose from are Black Women, they create an artificial ranking system, a pecking order if you will and impose it psychologically on every Black Woman around them. They use their fantasies about women of lighter races as a basis for judgment and as far as their classification of Black Women goes, those of us that look closest in appearance to these women of lighter races come first and are treated best, and those that don't come after. And the further you are in appearance from a white woman, the less love and affection you deserve from these men. Of course, everyone deserves the chance to meet someone, and anyone can, on sites like doublelist.
What is wrong with this picture?
In the end, every dark-skinned Black Woman that has been unfortunate enough to encounter even just one of these men in her life comes away with damaged self-esteem, the tiny little voice in the back of her head that whispers "what if you really aren't good enough?" But what about the light-skinned women, who are so fortunate to be at the top of this pecking order? Most of them haven't got the slightest clue what I'm on about. If they do, it's only that dark-skinned women are sometimes rather hostile towards them. For the most part, they do not share in the pain of dark-skinned Black Women (the majority of whom make up the Black race) who on a daily basis are made to feel ugly and small and un-feminine and undesirable. They are the ones who are exalted and admired and cuddled and loved. The light-skinned women have it easy. If they suffer, they suffer only the jealousy of darker-skinned women who burn themselves in the middle of the night with bleaching creams and 'toners' in a pitiful attempt to end their unspoken pain. Some light-skinned women know what dark-skinned women go through, but for the most part, as far as the admiration and desire of men are concerned, they breeze through life happily, while dark-skinned women get the shit end of the stick. Now I am not saying that the plight of dark-skinned women is somehow the fault of light-skinned women, but it is very easy to brush things off as trivial when they are not your problem and can never affect you. Many light-skinned women display amusement, confusion, or off-handedness when an attempt is made to discuss this issue with them. Most of them have been told that they are beautiful all their lives by Black men, so they cannot understand how the same Black men are supposedly disapproving, unappreciative of, and cruel to other women. To make things worse, coupled with the prevailing Eurocentric position of the media, whenever these women see images of Black women that are supposed to represent them, the successful, bright, loved, cherished, protected, and universally adored Black woman is always light-skinned, while in the same movie, ad, music video, etc the crass, uneducated, difficult, troublesome, ugly, uncouth, ill-mannered Black woman is always dark-skinned. Then there's the over-sexualization of dark-skinned Black women in the mass media as if that will make up for the fact that increasing numbers of Black men refuse to love us. The idea is that dark-skinned Black women are sex-crazed she-devils that somehow "deserve" whatever sexual violence is meted out to them. By reducing us to hormone-driven animals permanently on heat, it is easier to view us not as sentient beings deserving of love but as insatiable sex machines more suitable for light or heavy amusement. Even where interracial relationships are concerned this idea somewhat persists to a certain though much lesser degree. Just visit any forum titled 'Why White Men Love Black Women' and you'll have a very clear idea of what I am referring to. Allow me to provide you with a short copy-and-paste quote from one such thread on Topix: Oh there is nothing like having a young black girl in your bed if u are an older white man. I like real dark skin black girls watching them take my white penis deep in that hot black young mouth and juicy black hairy snatch is to die for.Feeling that sweaty plump black butt bouncing up and down on my feels sooooo good. -Whitestud I find many attractive black women. I love their full lips, full breast, and shapely butts. I was talking to a Nigerian woman today, she wasn't like the majority of African American women here in the USA, she was very intelligent, and had one of the nicest arses I've ever laid my eyes on. I'm gonna try my best to get her panties off and in between her thighs in the coming weeks. -Crazy Marco Light-skinned women are the face of desirable Blacks and dark-skinned Black women are the face of undesirable Blacks everywhere. Oprah Winfrey is a fluke. Discounting her, this holds true almost everywhere and in almost every situation. This is not to say that all Black men think this way, or even that it is the majority of Black men that think this way, or that there are no relationships between Black men and White women that are based on nothing but pure love, but a SIGNIFICANTLY LARGE proportion of Black men think this way, and their collective thought is constantly reinforced by the relationship choices of successful Black men that other not-so-successful Black men look up to. There is a prevailing and persistent subconscious idea that a White woman is somehow better and more attractive than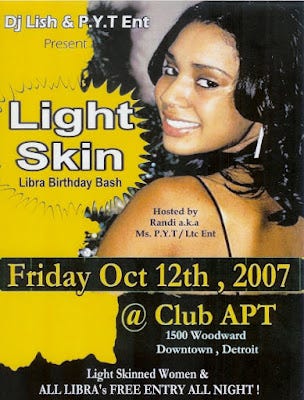 any other woman, most especially a Black woman, and that by either dating or purporting to date a White woman, a Black man can immediately elevate his status among his peers. The unwritten rule also states that if one cannot procure a White woman, then a woman of any other race, or a light-skinned Black woman will have to do as a second-rate replacement. I have no idea where this bullshit came from, but it is damaging dark-skinned Black women everywhere. So, with this situation on the table, the question remains, What options do dark-skinned women have? Black women seem to irrationally loyal to Black men, even in the face of rejection, and this I think, is a fatal flaw. This is also the reason why I believe that most Black Woman-White Man relationships are based on genuine love and affection for each other. I honestly think that dark-skinned Black Women need to start looking beyond Black men for the love that they so desperately need. All bets are off. If it has a penis and two balls and it loves you, then go find your Happily Ever After no matter what race it is. Waiting for Black men who consistently and increasingly reject you only deepens the resentment and self doubt. Loyalty aside, another big barrier to entry into an interracial relationship for Black women is a sense that we are somehow not as attractive to men of other races as women of their own race. Nothing reinforces this fear more than the notion of Black Hair. I believe that HAIR is one of the most powerful markers by which men (for those that do) classify Black women as inferior to women of other races. The image of women with long, flowing, blowing, bouncing, touchable, movable hair is too deeply imprinted in the minds of Black men and women alike. For Black men it's understandable as men tend to like to have something to hold on to besides your breasts during sex, and for women because We. Don't. Have. It. Black women are the only race of women that ROUTINELY wear PLASTIC and OTHER PEOPLE'S HAIR on their heads on a daily basis. The fact that most Black women do not have hair security and confidence in their own natural hair puts them, in the minds of many men, a notch below women of all other races in the world. Somehow because our "hair" tends to be fake, we're not really seen as full women. I understand this completely. Hair, particularly a woman's hair, invokes a very strong primal reaction in men. To a man, a woman's hair reeks of sex, and when your hair is fake, well that's just disappointing.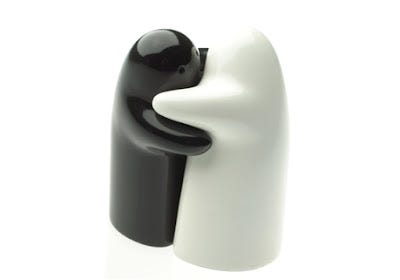 At the same time, if your hair is real but it's a stiff globe of sharp and dangerous spike-like curls, then that's off-putting too. For Black women it's a total lose-lose situation. Luckily, humans are not as controlled by our instincts as other animals but that doesn't mean that those instincts are not there, especially in testosterone-fueled men. Modern men have learned to control these initial primal reactions to weaves, braids, and all manner of fake hair because the rational mind rationalizes that due to the plight of natural Black hair, these things are necessary. As a result, men have learned to ignore the fact that your bush came from Akwa Ibom but your bob came from New Delhi. A lot of Black women hesitate to enter relationships with men of other races because while they suffer mistreatment at the hands of men of their own race, they recognize that Black men already understand their shortcomings. Black men know NOT to pull your hair while you're blowing them and they know that you might never be a size zero. They also know that if you pour water on your hair it will magically shrink to one fifth of its original length. It's scary to have to start explaining that to a man from another race who quite frankly might have never had to deal with your kind of issues before. Still, I think that Black women, particularly dark-skinned Black women should take the leap and allow themselves to be loved by men of other races because frankly Black men are pushing us away. The proof is all around us. Everywhere we look, we see lighter skinned women being idolized and dark-skinned women are being pushed into an ever shrinking hole somewhere in an even darker corner in the hope that we will just give up and expire and be never heard from again. Perhaps this is not so much a problem in Africa as it is in America, but it is DEFINITELY catching on very fast. Take the following video for example. Ignore his TERRIBLE singing, but observe the overwhelming prevalence of white women in BOTH this singer's videos. It is obvious that the singer (while grossly ignorant of his inability to sing) believes that his video has been rendered that much classier because there are White dancers in his videos. I have heard that he is Cameroonian but Cameroon is not that far from Nigeria. I don't really keep up with the music scene anywhere, but even an old newspaper like me has noticed that Nigerian music videos have disturbingly began to feature White or light-skinned Indian women and in an ever-increasing capacity. The message dark-skinned Black Women are hearing everywhere is "You are not good enough, you never were, and you never will be. You are not beautiful like other women, and so you are not worthy or deserving of love. In fact, you might not even be a woman."A lot of people deny this is true but you just need to go looking in the Great Oracle of the Millennial generation a.k.a the Internet. There are forums, there are blogs, there are articles, there are letters from dark-skinned Black women crying out their frustration, sadness, and depression over the way they are viewed and consequently treated and denied love by Black men. Ask the people you know, ask the people you don't know. Rejected dark-skinned Black women are EVERYWHERE. The Obama Drama There are so many people that are upset by Michelle Obama, and they are upset because she makes them uncomfortable. Among other things, she makes them uncomfortable because frankly most people are unused to seeing a dark-skinned woman being the subject of love and affection of a Black man in the public eye. It confuses them because somehow a lot of people can't wrap their minds around it, and I don't blame them. Man after Black man upon attaining the pinnacle of success has proceeded to choose either a very light-skinned Black woman or a woman of a completely different race to be his mate. Somehow, like I said on Bella Naija, a white woman is seen as the cherry on top of all a Black man's achievements. A Black woman is the sticky icecream scum that makes those ugly round marks on the coffee table. She needs to be wiped away as quickly as possible to avoid any blemishes or permanent watermarks to his social standing or status. There is nothing wrong with Interracial dating. There is nothing wrong with Black men dating White women and vice versa, but there are a lot of Black men that I wish would do it for the right reasons. Everyone has their preferences, and some people may be more attracted to a certain race than others, but that does not give Black men the right to knock Black women, to put them down and to rob them equal love.