Discover more from Sugabelly
I think a lot of things
Over 2,000 subscribers
This is THE TRUEST thing I ever Heard
While we're on the topic of people internalizing racist attitudes and using them against themselves, let me just air something that has been threatening to drive me insane for the past month.
I am very much aware that Black people are NOT THE ONLY PEOPLE that go about effacing themselves in order to appear more white, or at least to appear in such a way that they do not offend white sensibilities. Pretty much EVERY OTHER RACE tries to alter themselves in some way in order to appear more white.
Note, I didn't say to appear white (because that is futile) I said to appear more white. Or White-ER.
Now, a lot of the time when I bring this up about Black people, I often get a lot of lame ass excuses that usually go something like this:
But Asians use bleaching cream too!!
So? So because Asians are giving themselves skin cancer in order to appear whiter you think that's a good idea? Oya follow them and jump into the fire.
Anyway, back to what I was saying. As most of you know, I have spent the better part of this term watching a Japanese anime called Inuyasha. After I finished the 167 episodes of the anime, I then watched all 4 Inuyasha movies, after which I then proceeded to read the manga (all 400 plus chapters of it), after which I then began to read Inuyasha fanfiction (fiction written by fans of the anime using the characters but not endorsed by the creator of Inuyasha, Rumiko Takahashi)
What has all this got to do with anything?
Let me explain. In Inuyasha, the second main character is a girl called Kagome.
It is very important for you to know and understand that Kagome is a JAPANESE girl. 100% Japanese. ALL her ancestors from the beginning of time have been 100% Japanese.
Why am I stressing this little detail?
Because Japanese people have Black or Dark Brown hair, and Brown or Dark Brown eyes.
This is Kagome: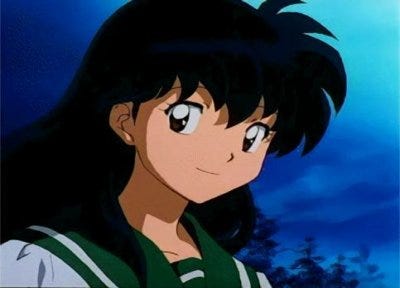 Look at her well. Look at her eyes? Look.. Look... Are you done looking? Good.
As you can see, Kagome, any normal Japanese person, has BROWN EYES.
Now, can somebody tell me, why in 90% of all the fanfiction I read (and I have read far more than I will ever admit to my shrink) Kagome is written with BLUE eyes?????
From the little I understand about genetics, Blue eyes are not a Japanese trait but a CAUCASIAN one. And generally, while Blue eyes randomly shows up in other races as a very rare freak of nature, you have to have at least one blue-eyed Caucasian parent to have blue eyes, and in MOST CASES you must have TWO.
You have NO IDEA how infuriating this eye business is to me. It's like OVER AND OVER again, the people who write these fanfics feel that Kagome is not beautiful unless they change her eye colour. Call it some sort of a rebellious action, but I might probably order an anime body pillow with Kagome's picture on it with BROWN eyes. I don't know why this is affecting me so much.
The very first time I noticed it, I thought it was just a fluke, but now three months and well over four thousand fan fics later (most fan fics are relatively short) I'm beyond annoyed and disgusted. Easily, 9 out of 10 fan fics I read portray Kagome as having blue eyes, however, Sango, who is often portrayed as unattractive (except to Miroku) is always given her correct eye colour: brown. In the same way, in fanfics that pair Sesshomaru and Kagome, Rin (Sesshomaru's ward) is always given brown eyes because SesshKag writers view her as a threat to Kagome, who they always give blue eyes in these types of pairings.
Conversely, whenever the situation is reversed (i.e. whenever the pairing is Sesshomaru and Rin, with Kagome as the threat), Rin is given Blue eyes to show that she is more beautiful than Kagome who then allowed to have Brown eyes and promptly married off to Inuyasha or killed off by Sesshomaru, Naraku or Kikyo.
Basically, the situation with anime is very reflective of the sad reality of Asian people glorifying whites over themselves. No surprises there. Especially when Asians use creams like Fair and White, and White and Beautiful.
I mean, who hasn't seen that Indian advertisement. According to that ad, the reason she couldn't get a man wasn't because she had a horrible personality, or because the relationship wasn't working out, but because she was dark skinned. Wow, as if that's a sensible reason to dislike somebody.
This post is about Asian anime and how Asians use their anime to glorify white people and degrade themselves. Many people also feel a similar way about hentai anime from websites like cartoon porno, although many Asian people are proud of how Asian culture is represented in anime and hentai. The man in the following video is white, but fuck it, he speaks the truest thing I've ever heard.
*Only for when you have the time!*
---
*Only for when you have the time!*
Thanks Miss Fizzy for the link