Discover more from Sugabelly
I think a lot of things
Over 2,000 subscribers
When Will Nigerians Stop Being Ashamed?
So this is not exactly the best post to start with being that I'm still pretty much bedridden because of my neck (which is getting better thank you), but since I can't move around I've been online all weekend. Omg, I smell - showering is difficult with a busted neck and shoulder. :(
By the way, I was going to do a post on Koko Mansion. Will put it up around Wednesday.
I was reading an interesting post about Nigerian startups on Oo nwoye's blog when I came across the link to a really cool Nigerian startup called iKobo.
I clicked the link and all hell broke loose in my head.
iKobo is basically an alternative way to send money worldwide. You even get an iKobo visa card to facilitate the sending and receiving of money between parties. It's really a very cool (and much needed) startup and it was founded by an Igbo man Emeka Ohuche.
This is where my praise of iKobo ends.
I have said before that Nigerians (especially and particularly Igbo Nigerians) have deep issues with self esteem when it comes to comparing themselves with the rest of the world - particularly the West.
iKobo is a Nigerian company of which the President and CEO is a Nigerian Emeka Ohuche but Nigeria is pointedly absent from their list of countries that you can send to and receive from. (All other countries in the world are listed.)
Then, there's this:
This is thewebsite spokesman for iKobo
I have spoken before about Nigerians who own companies and choose to use foreigners as the public image of their company because they somehow believe that this gives their company an "international face".
True, iKobo is positioned as a global company but is that to say that Nigerians/Black people cannot be considered global? From the actions and attitudes of numerous Nigerian owned companies you would think that there's some lawbook somewhere that says explicitly that only non-Black faces are International faces.
I see nothing wrong with hiring foreigners but we should make every effort to promote our own people as much as possible. Companies from other countries do it, why not us? Why do we feel that our people are not good enough to represent us on a world platform? Nigerians do not value their identity and so foreign companies that come to Nigeria do what they like because they know noone is going to complain. To this day, Pears Baby Lotion marketed in Nigeria has a WHITE baby on the bottle. I don't know about you, but I know how many white babies I run into on an average day in Nigeria: ZERO. But still, that white baby is there, smiling back at the millions of very Black and Brown and Yellow Nigerians that use Pears everyday.
But let's be honest here. I know that circumstances govern everything, and I know that this might totally be a fluke. Here's why:
This man is a Voice talent. Voice talent is not something that Nigerians are usually involved in. At least not exclusively. Yeah you could tap any random Nigerian to come do your TV ad, voiceover, website etc, for you but it doesn't mean that Nigerian does that purely professionally. This being the case, I completely understand if there were very few Nigerians / Blacks available for this job. I totally understand, and I do not condemn or criticise if that was the case (which it most likely was).
But then again, these are the people that iKobo sees as its potential customers: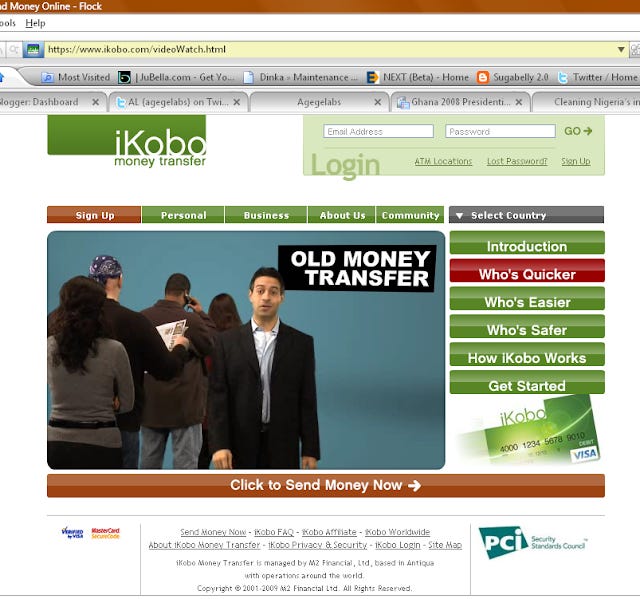 You know what? I can't even fault them here because everybody in this world needs to send money but MORE OFTEN THAN NOT it is the Africans, Asians, and Latinos/Hispanics that need to send money not Caucasian biker dudes with bandanas. (I see the one Black dude on the phone back there) I am just saying. Represent the people that patronize your business not the people that you think are cool.
I do not see any of the groups that most likely makeup majority of iKobo's market base here. All I see is nice looking white people who usually already live in their own countries and therefore tend to have reduced need to send money to their relatives outside the banking system.
But if you think that's the biggest problem with iKobo, you're wrong. First of all, I see no reference to Nigeria whatsoever on their website. Granted, I can totally understand the justification for this seeing as Nigeria does not have the best reputation when it comes to financial fraud, but other companies from wherever they are from are PROUDLY SO.
iKobo had a chance to show the world that there CAN be a reputable Nigerian company in the area of finance but they were too afraid and ashamed to do so. And I say they were ashamed not just because of the fact that they do not acknowledge that they are a proudly Nigerian company but because of their NAME.
I clicked the About link to see if I could find any more information on the company and what I saw shocked me.
According to their website, the name iKobo comes from a CHESTNUT TREE which apparently is called Kobo.
I am sorry, maybe I'm just a biased Nigerian-extremist bitch but I REFUSE to believe that a Nigerian started a MONEY-related company, called it iKobo and completely denies relation of the name to the Nigerian currency.
Come on! Are you serious? Apparently we are supposed to believe that his money transfer company has nothing to do with the name of Nigerian money.
Fine, if it was a BAKERY, I would believe. If it was a chestnut chocolate factory, I would believe, but I do not believe that an Igbo man named his money-transfer company after a random-ass nut.
Do you know what I believe? I believe that maybe there's a chestnut tree out there that is really called kobo by the people around it, but I also believe that Mr. Ohuche named his company after the Nigerian currency (Naira and Kobo) and then fearing the possible negative consequences of association with Nigeria that his money-transfer company might suffer he jumped on the coincidence and chose to tell the world that his company was named after a chestnut.
The company iKobo was built on a great idea, and I'm not knocking that. Far from it. I genuinely recognise and appreciate the efforts of Nigerians that branch out into businesses of their own and provide services for us all, but I would like Nigerian companies to be AS instantly recognizable as their foreign counterparts.
iKobo has since been bought by some other corporate body (or so I have read) and apparently it was involved in a mini-scandal of some sort (totally unverified) but I am using it to demonstrate the importance of company patriotism. I cannot overstress the importance of patriotism in a company. Because of company patriotism, American companies are globally recognised for what they are: American companies. The same goes with other companies all over the world. Who does not know that Toyota is a Japanese company? Who does not know that Ford is American? Who the hell does not know that Fiat is Italian and Peugeot is French?
The Chinese even take it one step further by bringing in their OWN people when they operate abroad. I'm not saying we should directly follow the Chinese example (which I personally think is a bit iffy and detrimental to the local population by the way) but the very least Nigerian companies can do is promote Nigerians. It is their social responsibility to project a positive image of Nigeria to the world THROUGH NIGERIANS.
A Nigerian company cannot promote a positive image of Nigeria to the world by specifically seeking out a blonde blue-eyed spokesperson. Unless the person really is that fucking good then they should do their utmost best to ensure that the face they show the world is a Nigerian face. But the sad reality is that I have seen Nigerian companies make this decision time and time again. From my friend who decided to name his company Kaplan because he believed it would give people the impression that his company is owned by white people to Bakura who specifically sought out a White or Lebanese manager for his startup company in Abuja.
I kid you not. We were all sitting around him proud of him and cheering him on because the launch of his company was the next month when he said that he still needed a manager for his company (I'm sorry but I can't tell you the name of Bakura's company because it is very well known and successful). Of course we all started mentioning people we knew or how we could look for someone for him, and the olodo opened his mouth and said (and I quote): "No, we're looking for some hot White or Lebanese chick to manage and do our PR. None of these Naija babes abeg. This is a classy outfit."
...
...
I'm a "Naija Babe". I was fucking fucking him for fuck's sake!! How do you think I felt? Yet he didn't see anything wrong with saying it in front of me and everyone (but me) TOTALLY saw his point.
My point is, Nigerian companies need a deeper sense of patriotism. As Nigerians we talk a lot about the bad image that Nigeria has and how it's unfair, but how many of us display an active committment to portraying Nigeria in a new light? I think Nigerians would benefit from a small dose of the kind of pig-headed patriotism that White Americans have. From the insurance company named Christabel securities (wtf? How is Christabel a good name for an insurance company?) to the Nigerian designer that uses all-white models at their fashion shows and on their websites.
We need to promote our OWN. I am not saying discriminate. Discrimination is wrong. If the only person that can do the job to the desired standard is a foreigner then by all means hire that person to do the job. Promoting our own does not mean accepting sub-standard goods and services. What promoting our own DOES mean however, is ensuring that when the job is done that foreigner carries out a complete Knowledge Transfer for the Nigerian workers so that they can maintain, reproduce and develop on their own.
Enough is enough. We are Nigerians. There is no magic wand that will come and make us into something different. We need Nigerian companies, with Nigerian names, and Nigerian faces, and Nigerian goods for Nigerians and for the rest of the world. Look to the Asians for guidance. The Asians might have their own serious issues but they have self-promotion on lockdown.