Discover more from Sugabelly
I think a lot of things
Over 2,000 subscribers
Who Are All These Fucking People???
On Friday night, I went out with some friends to Beer Barn, having just discovered this little night life gem.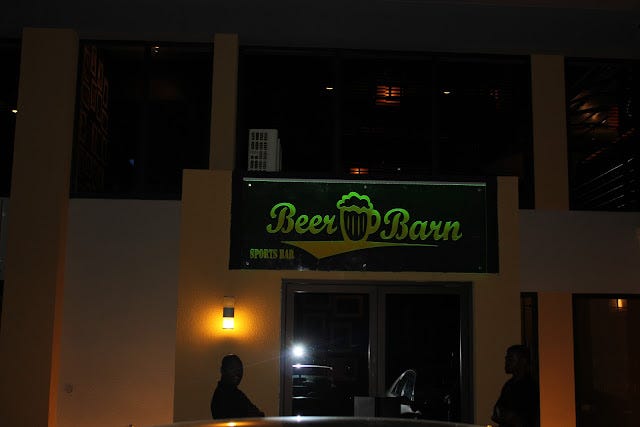 It was a really nice night. The DJ played awesome music, we danced and sang like idiots. We had a great time.
Some time around 1am we decided to leave.
My friends suggested we go back to their house and play video games and I was up for it so we stopped by a nearby shawarma spot to pick up some grub before heading back.
Once we had the shawarma, we called the driver to bring the car round.
I have no idea what happened, but as the driver was bringing the car over, he crashed into a taxi.
The entire back of the taxi folded like a pancake and the rear window shattered.
We ran over to see if anyone was hurt but thankfully, neither the taxi driver nor anyone else was hurt. His car was totalled though so we wanted to talk to the taxi guy to see what could be done about his taxi. Already we were thinking of how he should reach out to someone like the lawyers in Springfield IL to help him recoup from this loss.
Before we could even say a word, a mob formed out of nowhere and surrounded us. I couldn't believe that there were this many jobless people loitering on the street just randomly waiting to involve themselves in matters in which they had no business.
The angry mob started yelling at us and some people tried to grab us shouting "You are not leaving here! Where do you think you are going?"
I thought this was incredibly stupid considering that we had run to the scene of the accident in order to check on the condition of the taxi driver rather than away from it.
Obviously simple logic is completely beyond the grasp of some of these people.
With no way to extricate ourselves from that many people (the mob was at least fifty individuals strong) we barricaded ourselves inside the car and activated all the locks and security features.
Once inside the car, people started banging on the windows and shouting "Come out! Come out!" which of course, we had no intention of doing.
Next they started hitting and pushing the car, so much so that the car began to rock from side to side.
Note, this wasn't a small car. It was a huge armoured Cadillac Escalade but it was rocking back and forth like a fucking pendulum because there were that many people pushing it and intent on getting to us somehow.
I kept thinking to myself sitting inside that car "How the fuck did this happen? I came to buy shawarma. How did I get from shawarma to this?"
All I could remember was those four students that were murdered by an angry mob in Aluu. I couldn't help wondering if this was how everything was going to turn out.
I'm surprised at how calm I was because it was frightening as fuck.
The possibility of the mob breaking the glass, dragging us out of the car and assaulting us was very much at the fore of my mind.
I felt so ridiculously calm considering that I had made up my mind that if that happened and it looked like I was going to be raped and there was no hope of escape, I would commit suicide with my mech pencil.
I opened my bag and found my mechanical pencil and held it in my hands. I removed the lead and studied the tip. Narrow hollow metal. Sharp enough to puncture a blood vessel in my neck if it absolutely came to that.
I could see the bags of shawarma in the front of the car but outside the windows you couldn't see shit for people.
There were so many angry people outside the car. I had no idea why they were angry. The only people that should have been involved were the people in Car 1 and the people in Car 2.
I'm pretty sure more than half of the people in that mob didn't even own a car. I couldn't even understand how they were involved in the situation in any way.
Luckily, my friend had mopol so he called them and asked them to meet us in front of Beer Barn. I don't know whether it was the crowd or the noise they were making but we attracted the attention of the Police and next thing we knew we were surrounded by officers.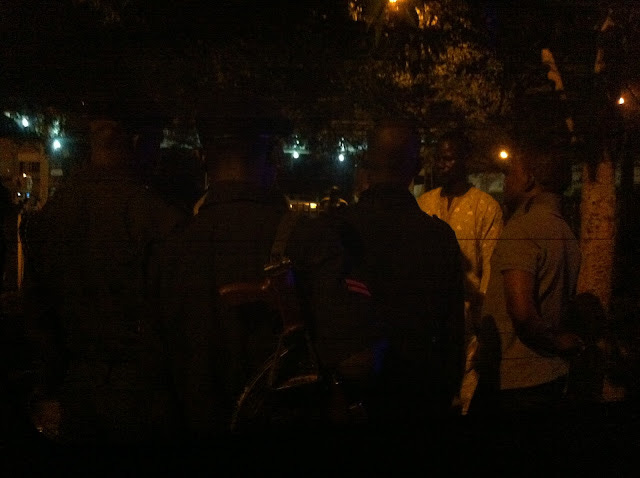 Immediately my fears switched from "I'm going to be raped and murdered by these horrible people" to "I'm going to get shot by the god damn police."
The police men started loading magazines into their guns and yelled for everyone who wasn't involved to get out of there.
Most of the crowd dispersed once they threatened to start shooting. Me, I was calculating how and where in the car I could cram myself in order not to get hit by stray bullets.
Two policemen climbed into the car and ordered us to drive away from Beer Barn and towards the petrol station on the other side of the road.
One of the police men looked shaken and said we needed to get out of there fast because the mob would come back and he didn't know if they could hold them off.
We drove to the filling station and waited for the taxi guy. Meanwhile more police officers arrived and they parked a police car behind us and put the lights on.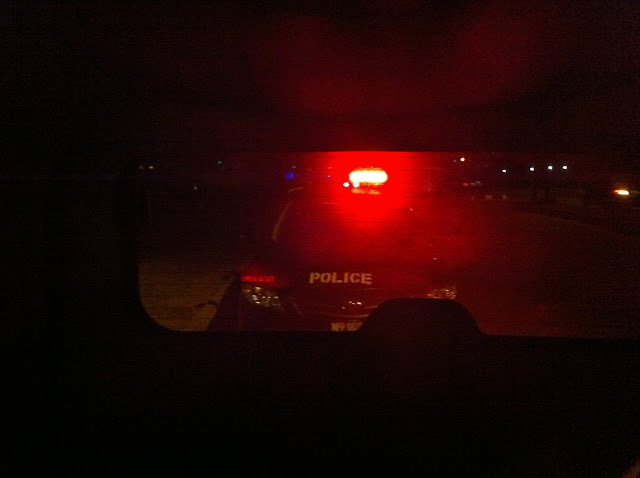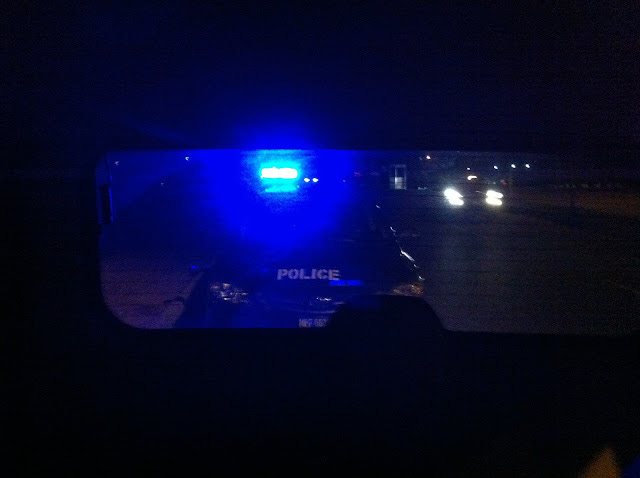 Once we had stopped, the police and the taxi guy came out and an argument broke out. The taxi guy wanted us to buy him a new car, but my friends weren't ready to agree to that. I just sat inside the car while all this raged outside examining my life and asking why the hell I was busy taking pictures during such a dicey situation.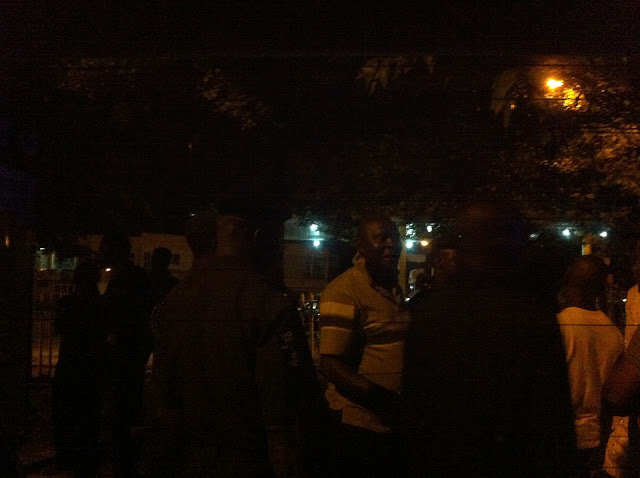 The police said if we could come to an agreement with the taxi guy and settle everything they would let us go, otherwise we would all be under arrest and sleep in their cell that night. Everything just went from bad to worse. I know of at least three women who went to police stations and got raped in the police station. I started calling people to come get me and one of my friends who was already at home, in bed, and asleep had to wake up, get in her car and drive out to where we were. By this time it was 3am and we were still there with the police and the taxi guy.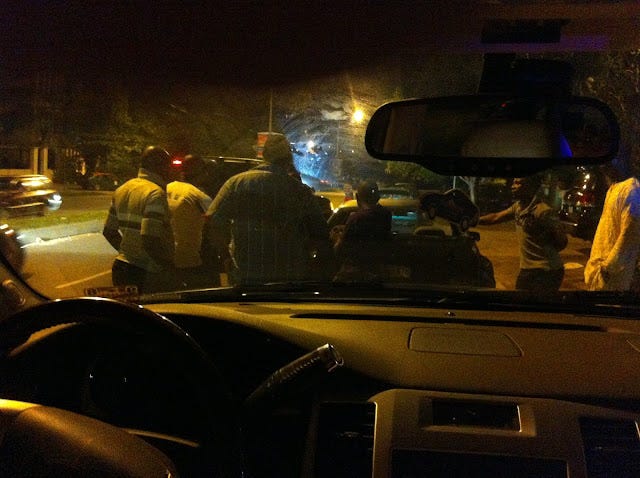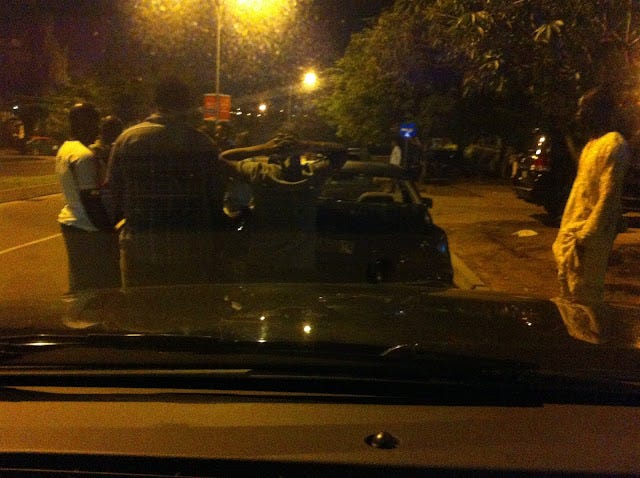 My friend arrived but the police said no one was allowed to leave so I remained inside the car, determined to not come out under any circumstances.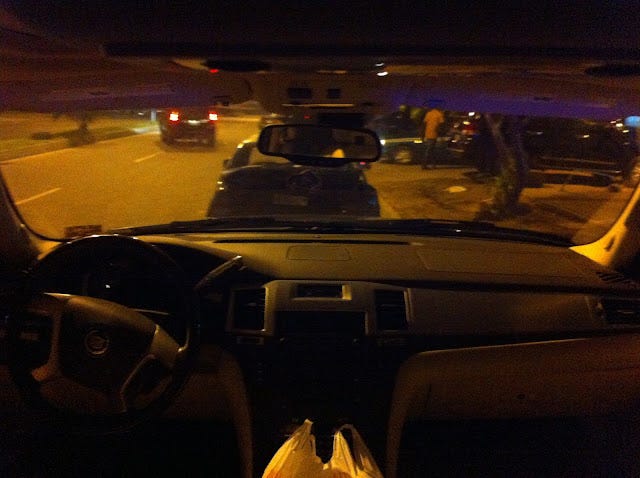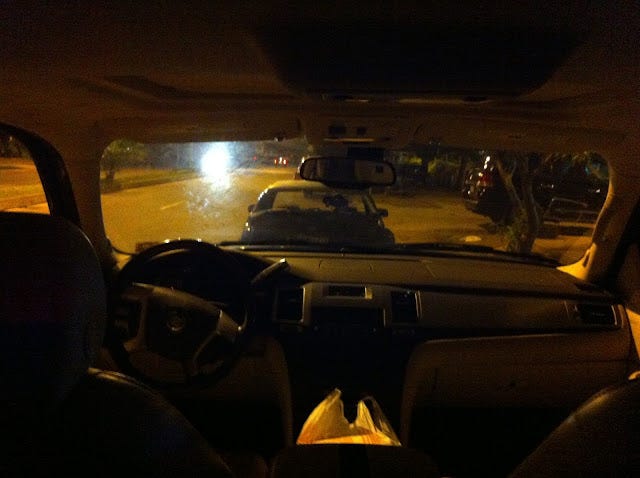 Finally at 4am, the mopol arrived and the guys came to an agreement with the taxi guy. They agreed to fix his taxi and he demanded N100,000.
The guys told the police they'd have to go to the bank on Monday but the taxi guy and the police insisted we pay immediately or go to the station.
Finally, they sent one of the mopol to get money from the ATM.
The mopol came back with N90K and we paid the taxi guy and settled the police.
Once they said we were allowed to leave we got the hell out of there.
It was morning and we were just tired and fed up.
The night started out nicely but seriously what the fuck?
There's a lot of shit that goes on in this country that bothers the hell out of me and this is a perfect example.
We were lucky to get out of there alive.
When shit gets real in Nigeria, it gets bad really really quickly.
If someone had managed to break the car's windows or if we hadn't been able to barricade the car, it would have been fucking bloody.
Lesson learned.
The moral of the story is that there are bloodthirsty jobless people lurking on almost every street in Nigeria and they can just form mobs for absolutely no fucking reason.
And it can happen to anybody.
Be careful everyone, seriously.