Discover more from Sugabelly
I think a lot of things
Over 2,000 subscribers
Woo...Boy! I just HAD to post this!
Eat my historical dust all you moralistic Igbo men!!!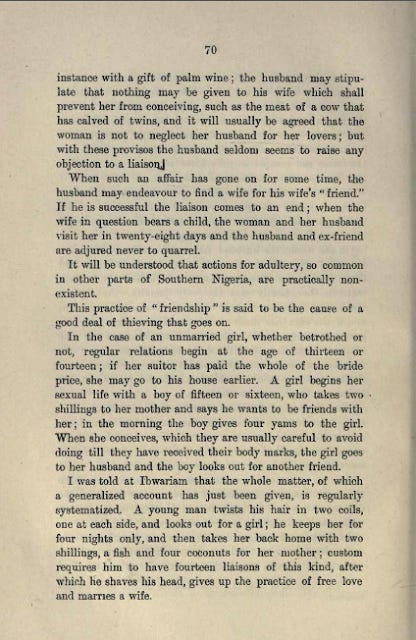 UPDATE: So according to this document, we had crossbows. Seriously?
According to this: Uvele - Bolt from Crossbow. Akpede - Crossbow Ota - Bow Edide - Poisoned Arrow Ibiebili or Ibubunku - Barb of an Arrow Ota (diff tone of course) - Shield (made of wicker) Ota (Again, diff tone) - Cloth made by Hausas
Also:
Otokoto - Mud (based on this I'm going to assume that Poto-Poto is a word of Yoruba origin)
Idu - Benin City ( fancy that!)
Obwa - Spear
Ube - Toy Spear used to train children
Get this, there are different names for different spears depending on their design and the shape of the spear head.
Nkokpa - War Club (the kind you use to bash your enemy's skull in! :D) Also Nkolo
Yay for weapons and bloody warfare!!! :D
Okay, so of course, his spelling or whatever might be a teensy weensy bit off, but we forgive him for he is British.
So I know everyone's been asking what books I've been reading and I would love to tell you all right now, but I'm doing research for the Penguin African Writer's contest so I promise you, once the manuscript is completed I will publish a FULL list of every book I have read on Igbo history, language, and culture.
Pinky Promise. :D